Get creative with UTEP's Digital Media Production Program
As new students prepare to start the next step of their education at UTEP, the time has come to choose degree plans and programs that fit their goals. With over 160-degree programs, UTEP has a variety of choices where students can find their calling. One such program is UTEP's Digital Media Production program, which allows students to explore the steps of audio/video editing, photography, writing and much more.
Although UTEP is known nationwide for being an engineering and research university, there is still plenty of room for students who feel compelled to pursue something else. Inside the College of Liberal Arts and the Department of Communication you will find Digital Media Production. In a department with approximately 800 students, according to one professor, the program boasts being the most popular of the others.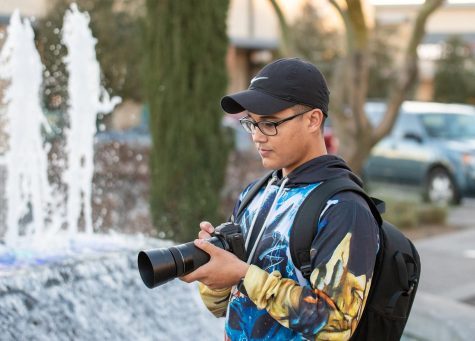 "I think it's a great major if you are interested in producing creative work in a digital environment," said Richard Pineda Ph.D., associate professor and department chair for UTEP's communication department. "This (program) gives you an opportunity to be able to figure out how to use technology, to be able to create these digital products. There's a lot of creative rewards in picking this major, but there's also some financial rewards. Once you understand the core elements of digital media production, you will have some experience working with different entities. You could work for advertising firms, the film industry, a TV station, or other creative studios that are doing that work. There are a lot of different opportunities (in this program)."
From working with local news outlets to being involved in a feature film, digital media production is the right major for anyone looking to get behind the camera. You will also be working with a lot of software, such as the Adobe Creative Cloud, which is a platform involving video, photo and vocal editing softwares.
What sets this program apart from the others offered at UTEP is how much it can include. Not only does majoring in digital media production allow students to work on hands-on projects such as digital projects, but throughout its duration students will learn to write, conduct research, and more.
"I used to be a criminal justice major, and when I switched over to digital media production, I ended up still taking a criminal justice class about film," said Michael Grijalva, a social media manager for a YouTube corporation. "So, digital production is one of the only majors that I think has a hand in almost any other major or department in the school. I've always been super interested in film, and I've always wanted to be an actor. So, while UTEP doesn't offer film as a major, it did offer digital media production, (which) has been really helpful just because it helps you understand the ins and outs of filmmaking that doesn't really get talked about."
A major that can utilize skills from other subject areas to learning about the process behind making a video or podcast, the digital media production program is definitely one to keep in mind as you start your new journey at UTEP.
Elisha Nunez is a staff reporter and may be reached through [email protected]