From calm water fountains to the awe-inspiring native plants of the desert, UTEP's Chihuahuan
Desert Gardens are a destination all Miners must go to at least once. With a variety of plants coming from New Mexico, Arizona, Texas and Mexico, a walk through this garden is enough to show you the biodiversity of a desert some people call home. If you have never been there, then this is a sign to go and soak in all the desert plant sights, calm spaces, and special features the gardens have to offer.
First established and formally dedicated in 1999, the gardens are here to honor the flora and fauna of the Chihuahuan Desert. With several different gardens showing off desert nature, accompanied by occasional sculptures or fountains, the complex is a great exhibit of the natural wonders the desert offers.
"Most of these plants are all from the Chihuahuan Desert. These, or a lot of these are all plants that people could see if they went to the Franklin Mountains, Hueco Tanks, Guadalupe Mountains, or places like that," said Kevin Floyd Ph.D., the botanical curator at the Chihuahuan Desert Gardens. "I think it gives people a real appreciation of where they live. It's a really beautiful place. The plants are really amazing, we probably have over 600 species of plants right now."
Not only are the natural wonders in these gardens amazing, but so are the man-made ones. From a dripping fountain in the Contemplative Garden to a Bhutanese prayer wheel placed towards the top level of the gardens, the contrasts of natural and unnatural are tied in throughout the gardens.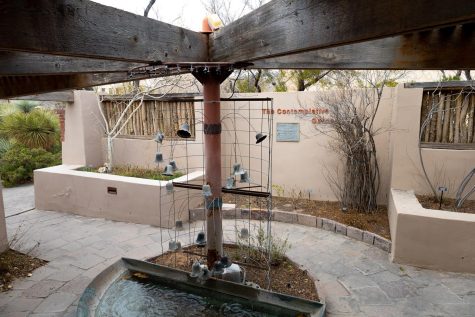 "It's a hidden treasure on campus, and I hear that from a lot of people that are visiting for the first time or (who) have even come multiple times. It's just a really well-designed garden. It's got the path that goes through it and then just a large diversity of plants," Floyd said. "It's a really quiet place. A lot of the garden has these high walls, or it has a lot of plants around it. So, you can really sit in the garden and feel pretty separate from some of the hustle and bustle of classes and work and tests and all of that stuff."
The gardens are not only one of the largest places and assemblies where you can observe the nature of the Chihuahuan Desert, but it is also a place for you to decompress, especially if you are a newcomer to UTEP. Located right behind the Centennial Museum, the gardens have free admission and offer many places to sit or relax.
"The (gardens) are very clean and very big as well. (Freshmen) should go visit the gardens," said Sophia Chavez, a psychology major at UTEP. "(You) can go to study or relax. People can enjoy spending time there because of how comfy and (calm) the (gardens) are."
Elisha Nunez is a staff reporter and can be reached through [email protected]