Editor's note: Some sources preferred not to share their full name or title so are instead referred to by an identifiable nickname. 
Memorable would be an understatement in describing the performance made by two-time Grammy Award winning group, the Attaca Quartet. Comprising of two violinists, a cellist and violist, the night was filled with intensity and power not only from the instruments, but from the musicians as well. The performance by the group was held at UTEP's Fox Fine Arts Recital Hall and lasted approximately two hours. From start to finish, the sounds of vibrato and sharp shrills from the strings left the audience in awe.  
The quartet was established in 2003 and has since made its presence known in the world of classical and modern music. Founded by members Andrew Yee and Amy Schroeder, the quartet has had members come and go. Today, current members include Nathan Schram and Dominic Salerni.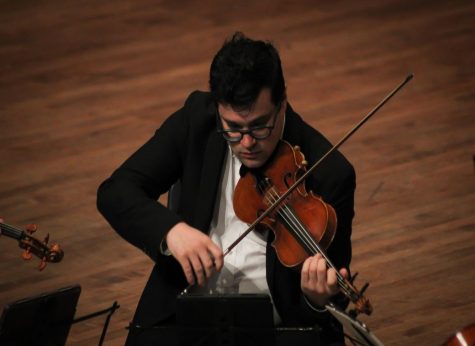 It was nearly a month ago where the group was awarded their second Grammy Award, which Salerni described as "a very adrenaline filled day." After winning the award, the quartet has returned to doing what they love best: making music for people to enjoy. 
"It's back to work now, you know, our job is to bring joy to people. It's to play music, it's to interact with people," Salerni said. "Getting an award is wonderful, but I hope it doesn't ever take away from why we're here." 
Despite being a group that has been associated with classical music, they have managed to branch out beyond that genre. With their latest performance at UTEP, you could sense the emotion, almost anger the artists were letting out through their instruments. Plucking the strings of the instruments, also known as pizzicatos, and the long and short strokes of the bows all made the show even more worthy of watching and enjoying.  
The program consisted of three acts overall, two with more than one part. The first part of the program "Entr'acte," composed by Grammy and Pulitzer Award winner Caroline Shaw, was played to perfection. The second act composed by John Adams had two parts and kept your attention the entire way. Followed by a short 15-minute intermission, the night ended with an amazing playthrough of "String Quartet in F Major" by Maurice Ravel. 
"The performance was superb, beyond cutting edge, nothing I could expect. These four musicians have managed to create music methods that are unheard of. After the performance, I felt elated, my spirit was soaring, and my mind was questioning how they were able to get such sounds out of their instruments," said Marsha from Northeast El Paso. "They managed to take you from enthusiastic rhythms to deep emotion in such a way that you felt every bit of it to your bones." 
After a standing ovation, the musicians stood up and gave a bow, even coming out to meet or take pictures with audience members. The performance was not only made memorable by the music, but by the musicians as well. Their sudden pauses, facial expressions and playing techniques all made the program one to remember.  
Elisha Nuñez may be reached through [email protected]