Editor's Note: This is the first part in a three-part series. 
Alexia Maldonado describes her style as "classic, with a bit of a twist." Consisting of bright colors, mixing patterns or prints and reminiscent of the Y2K era, her new vintage shop IFELLINLOVEHERE reflects that style. Having opened Feb. 11, this new shop displays many different clothes that will make you fall in love with them. 
Located south of Horizon City at 1381 S. Darrington Rd., you will find IFELLINLOVEHERE. The shops' opening gives residents the opportunity to look for vintage fashion reflecting Maldonado's extensive fashion taste. 
"Honestly, everything is so cool, she has a really good sense of style," said Karissa Barreiro, a local tattoo artist. "So, everything in here is really cute. I feel like it's good that small business owners or entrepreneurs are opening in different places. I really seem to think this can maybe inspire small business owners to branch out to places where there's not a lot of stuff." 
A one-of-a-kind on that side of town, the business is one of few places in the area that is not a scrap yard or auto shop. Unlike neighboring businesses, IFELLINLOVEHERE is one of the first vintage shops in Horizon and has the potential to be a new fashion hotspot for Horizon City.  
"There's nothing over here on this side of town," said Sarah Mann, owner and nail tech for y2kfantasies. "We have some little thrift stores on the west side, central, but nothing east, far east. I think that this is a good opportunity for people that live over here.  As someone who lives on the Eastside, it's not too bad either way. It's definitely different though, a hidden gem if you will." 
Maldonado dove into fashion at a young age and credits her mother for letting her mix styles together. After growing up, she attended El Paso Community College (EPCC) and studied fashion. It was there that she learned about business, designing clothing, or as she put it, "living, breathing, and eating fashion." The arrival of her new shop reflects everything she has learned and was inspired by for her love thrifting.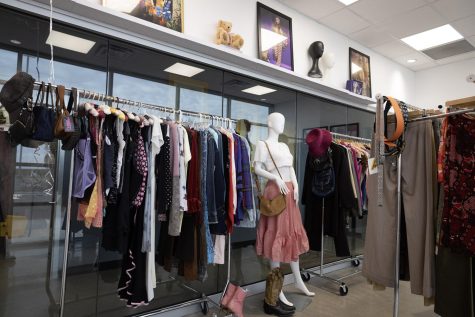 "I've always loved thrifting. It's just that excitement of going into a store. You never know what you're going to find," Maldonado said. "I could spend hours in a thrift store and just look through every single item on the rack and find like, these pieces that you cannot find anywhere else." 
With a selection of curated pieces by Maldonado and other vendors, vintage clothing is obviously her passion. However, one aspect of a thrift or vintage shop many people may not like is having to spend hours digging through racks of clothes just to find that desired or designer piece. This is what led to her picking out your outfits for you. 
"I offer private styling appointments. When you're able to come in and stop by, you'll already have an assortment of pieces," Maldonado said. "It's already been picked through for you. People will contact me and be like, 'Hey, can I set up an appointment?' and maybe they send me a mood board or something and I will put (together) a few pieces for them, style them in some outfits. It's kind of like a more private shopping experience." 
Along with managing her new store, Maldonado also keeps up with her brand "Amaldeux" which she designs locally and has manufactured in New York City. With two businesses, Maldonado has found herself with her hands full.  
"It's been really hard because I'm a one-woman team right now," Maldonado said. "Luckily, I have the freedom to work on my own, I'm my own boss. I'm good at time management and scheduling myself. I (have) my priorities. I am looking into hiring a team of people to help me right now for my clothing brand, which is a model. I'm looking to hire a technical designer, a pattern maker, and a sample maker. That'll just smooth the process out a little bit for me so that I'm not doing everything myself and I'm able to balance the two businesses." 
Although it has been busy for her, Maldonado is motivated to be on top of her game and to accomplish her mission: getting her clothing and brand into the fashion world. By focusing on her clientele and doing her styling appointments, she hopes to make both of her businesses recognized fashion destinations. 
Elisha Nunez is a writer and may be reached through [email protected]