Much like how the winds that rush through El Paso's landscape make an elaborate concert, the El Paso Winds made an unforgettable performance with "Lift Every Voice." The program featured several pieces, most created by Black composers in honor of Black History Month. From songs that made you feel vibrations from the percussion to dreamlike acts with a soft melody, the El Paso Winds performed an amazing show. 
Formerly the El Paso Wind Symphony, the concert band was organized by Ron Hufstader, Ph.D., and other El Paso band directors dating back to 1995. Today, the band consists of nearly 45 musicians who play a variety of instruments, many of which were shown off during "Lift Every Voice." 
The night started with a fiery performance of Kevin Day's "Dancing Fire," before moving on to a timeless piece, "Adoration," by Florence B. Price. What followed was a memorable display of John Williams's "With Malice Toward None," featuring a stellar performance by principal trumpet, Nancy Taylor, Ph.D. Throughout this first part of the program, the symphony was conducted by UTEP's very own Andrew Hunter, Ph.D., who also conducts the UTEP Wind Symphony.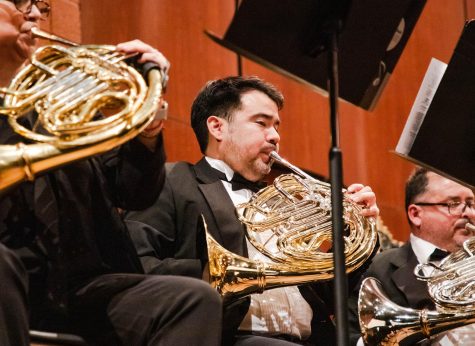 The next stage in the program led to a swap of leadership, introducing conductor Bruce Beach to the crowd in a wonderful cover of "On Parade" by Amanda Aldridge. 
Following a short intermission and the return of Hunter as conductor, an amazing performance of "Deep River" by Benjamin Horne resonated throughout the Fox Fine Arts Theater. What came after were two compositions, both with many acts, much like the hymnbooks seen in churches in the past.  
The first involved a cover of William Grant Still's "From the Delta," which included three differing acts, from a celebrating melody to a hypnotic, wandering sound. Whether it was the mystifying sound of bells, or the sudden "clangs" of the triangle, each instrument held an important role in the program. 
To end the night, a four-act piece titled, "American Hymnsong Suite" by Dwayne S. Milbourn was played to perfection by the symphony. You could hear the clarinets, flutes, saxophones, tuba and many other instruments through the program. The music was enough to lead you to a calm sleep, or jolt you awake and was a great way to welcome a new maestro for the symphony's 26th season.  
The concert Feb. 27 was the third of this season, with two more on their way in March and May, all of which will be performed at the UTEP Fox Fine Arts Recital Hall. For more tickets and information, visit elpasowindsymphony.com 
 Elisha Nunez can be reached through [email protected]