1st Ave. First Market under new management
From local businesses to yummy food, the 1st Ave. Artisan Market is a home to many small businesses in the city of El Paso. The Main Room Event Center, located at 798 E. First Ave. hosted its first market of the year Feb. 19. The event lasted from 11 a.m. to 4 p.m. and presented a wide variety of businesses and vendors. 
As an event planner, Fernanda Rosales has become the new owner of the 1st Ave. Artisan Market and hopes to continue bringing support for all things local to the community.  
"I am a huge supporter of the community," Rosales said. "I feel like doing a local market helps a lot of small businesses." 
Rosales hopes to continue this market twice a month to allow vendors to continue showcasing their items. From custom-made shirts to makeup to delicious sweets, the market has it all.  
"I hope that this becomes a big part of the community," Rosales said. "I would (love) for people to know that on Sundays they can come by to the heart of downtown and get to meet our vendors." 
Among the many booths at the market, Iridian Molina, owner of Nebulla Shop, sells gold plated and tarnish free jewelry.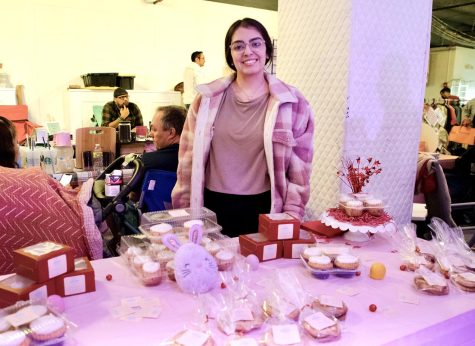 "I started about four months ago," Molina said. "So, my business is still trying to take off, but so far so good." 
The 1st Ave. Artisan Market has given Molina the opportunity to showcase her small business and help her grow.  
"El Paso is a community-based place," Molina said. "I would (love) for El Paso to continue coming out and supporting." 
Past owner of the 1st Ave. Artisan Market and owner of LM Crafts, Lupita Meza, hopes to continue being a vendor at the market despite stepping down as the market coordinator.  
"It is a blessing for us to still be here," Meza said. "I love our products and I love being around creative people." 
Meza has helped coordinate past markets since 2020 and has recently stepped down due to personal reasons. However, with the help of a new coordinator, Meza is still able to showcase her wooden crafts all while supporting other local vendors.  
"We built the market up to a point where it was really good," Meza said. "I hope it keeps going because it was a lot of work, and it is always important to support local." 
The market invites the Sun City to come out and support local businesses on Sundays. To learn more about the market and its vendors, follow 1st Ave. on Instagram @1stavemrkt.  
Jasmin Campoya is a staff photographer and can be reached at [email protected]