Through the film lens of UTEP students
Editor's Note: This is the first part in a three-part series.  
Digital photographers everywhere have argued analog is pretty much over.  
Now with digital cameras, what more could you ask for? While many may have this mindset, two UTEP students began and have continued the tradition of film photography alive.  
Junior, Kevin Jabalera, studying engineering leadership and innovation, shoots on an Olympus OM-1 35mm camera. While he still shoots digital, his specialty is in shooting black and white film.   
"I started shooting film in my senior year of high school," Jabalera said. "I was really into photography back then and I only had my digital camera, but I really wanted to get into film."  
Jabalera's love for film began in high school and continued from there. He takes inspiration from photographers from all over social media platforms.  
From developing his photos to experimenting on different film rolls, the excitement he feels while shooting analog is a different sensation than that of shooting with a digital camera.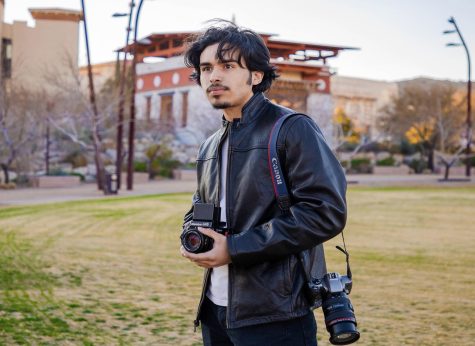 "I see that there is a fine line between all the pictures that everyone is trying to imitate," Jabalera said. "Putting filters on Photoshop and trying to simulate the 'back in the day' style, but nothing compares to the grain that shooting on film provides you."   
Although everyone can edit photos, the film look Jabalera gets on camera through analog versus digital makes a difference in his overall photography style.   
"Everyone is going to agree that you shouldn't even bother to shoot film if you already have all of the convenience of a digital camera," Jabalera said. "But it's just that edge that shooting film gives you, it's a different aesthetic."  
Junior, Michael Ruiz, who studies computer engineering, shoots on a Mamiya M645 Super Medium Format camera and while his focus is digital photography, he shoots on a variety of film.   
"I prefer shooting film because it's more of an intimate process, you are more intentional with what you are doing," Ruiz said. "The images that you yield from it are more organic and reciprocal of what the real world is like."   
Being a digital and film photographer, Ruiz describes shooting film like no other.  
His dedication to film continues to inspire him despite the antique aspect of it.   
"I found a roll of expired 35mm film, it was really expired, like ten to fifteen years out of date and I wanted to shoot it so badly, so I bought a really cheap camera on eBay," Ruiz said. "I shot it, and the pictures came out horrible and so underexposed and grainy, and I loved it, and it just made me fall in love with the whole process behind it."  
Ruiz has been photographing film for about seven years, despite being in computer engineering, his passion for photography is a big part of his life.   
Photography is one of many creative outlets for students to flex their storytelling abilities. Film photography allowed Jabalera and Ruiz to bring back trends that have long since passed, especially in a community of college students.  
Jasmin Campoya is a staff photographer and can be reached at [email protected]