'Art Your Bra' spreads awareness for breast cancer
UTEP's Sigma Lambda Gamma National Sorority hosted the Art Your Bra event Jan. 24, at the Union East as part of their recruitment week. The philanthropy event allowed students to decorate bras while also providing an informative presentation to spread awareness on breast cancer and how women can spot the signs of the early stages of breast cancer. Through this, women who attended the event were able to be more aware of self-testing and the signs of breast cancer. For women who attend UTEP, this event provided an opportunity to be more aware of breast cancer.   
Sigma Lambda Gamma president Sofia Branco, a senior majoring in forensic science led the event. As part of the philanthropy requirements, the sorority fulfills philanthropical events, one being breast cancer awareness. The sorority provided a presentation on breast cancer but wanted to add a fun spin for students to get involved.  
"The presentation that we're going to give out has some pretty important factors of breast cancer, how to identify it, what to do, some call to action(s) in there," Branco said. "For the women that is not sure how to identify it."  
During the presentation, the sorority informed students of the types of cancers such as benign and malignant tumors. The risks were identified as menstrual periods, hormones and pregnancies allegedly leading to breast cancer. The sorority also went over several prevention methods women can take to maintain a healthy lifestyle such as diet changes and scheduled screenings once women are 40 to 50 years old. Students were asked to bring used bras and provided with different materials to decorate them after the presentation.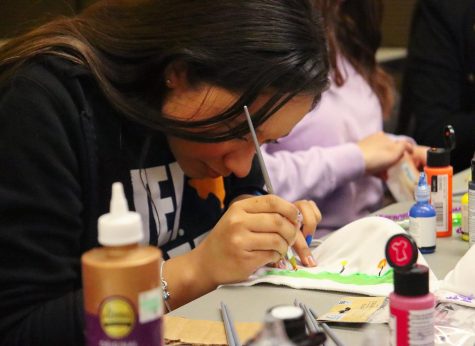 Elizabeth Maldonado, senior forensic science major with a minor in biology and a member of Sigma Lambda Gamma, explained the importance of the event. 
"I think it's super important because while I was in the presentation, I had never seen it before and a lot of things I learned, I had no idea about," Maldonado said. "It's just a lot of good information that isn't widely spread, so it's good to come to things like this so you learn." 
Art Your Bra created a safe and informal space for women at UTEP to learn and understand what breast cancer is and the causes of the disease and the several preventative and safety measures women can take in the future while also having a creative spin to end on a lighthearted note. Sigma Lambda Gamma will continue to host events this week and next week Jan. 24 through Feb. 3 for their recruitment weeks and their philanthropy.  
Next month in February, they plan to host an event informing students about CPR and the heart association. The sorority will also be hosting a Night at the Rec, Jan. 27, where UTEP students can interact with sorority members. If you are interested in joining or attending events that Sigma Lambda Gamma hosts, you can find the sorority on social media platforms under upsilonbeta_gammas. 
Avery Escamilla-Wendell is a staff reporter and may be reached at [email protected].utep.edu