El Paso's newest ice cream parlor has finally opened its doors to the community. Howdy Homemade Ice Cream Parlor's grand opening was Dec. 3, 2022, and since then the "Heroes" have been serving every scoop with a smile.   
"The best part about working at Howdy Homemade is seeing how our heroes are making an impact in our community without knowing it," said chief manager of Howdy Homemade, Poppy Martll. "And seeing how they excel every day because they love what they do. They inspire me on a daily basis."   
 Unlike any other ice cream shop, Howdy Homemade serves unique flavors, but also inspires young people who have disabilities to follow their dreams and gives them the confidence to apply for jobs and acquire skills to succeed in them.  
  The company originated in Dallas and was created by a man named Tom Landis in December of 2015. The company's mission is to create more jobs for people with intellectual and developmental differences using the power of smiles and delicious ice cream.   
"We came to Howdy Homemade because we had heard about it from Fitfam on Instagram and we thought it was such a good idea," said customer Marissa Rascon-Arriaga. "The ice cream is really good, and the ice cream shop has great customer service too."  
The ice cream shop has lots to offer, such as tasty flavors that include Dr. Pepper chocolate chip, dark chocolate chipotle and birthday cake, which they make themselves in a suite next door to the shop. Customers can get their ice cream with various toppings and cones.  
"So far business has been going pretty good," Martll said. "We are very excited because we see how people enjoy the environment and they love the ice cream. Our heroes are capable of anything, they just needed an opportunity to actually make it. I'm very proud of our heroes and I am very blessed to be working with them. It's been an amazing journey so far."  
 Available merchandise includes hats and shirts to help you match the Howdy Heroes. Howdy Homemade also caters for various events as well.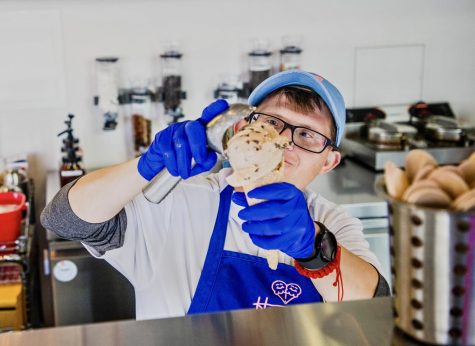 "My favorite part of working at Howdy Homemade is serving ice cream and becoming good friends with the people I work with," said Howdy Homemade Hero, Evan Vourazeris. "People should come to Howdy Homemade because it will inspire them, and it will fill their heart with joy with all of the different flavors of ice cream. Whatever you like, we will serve you."  
Howdy Homemade is located at 601 N. Oregon St. in the Roderick Artspace lofts. 
Hours of operation are Monday through Thursday from 12 p.m. to 8 p.m. and Friday and Saturday from 12 p.m. to 9 p.m.  
For more information, visit howdyhomemade.com/ElPaso/ or visit Howdy Homemade on Instagram @howdyhomemadeelp.   
Alyson Rodriguez is a guest contributor and may be reached at [email protected]; @alyson_rod1127 on Twitter.