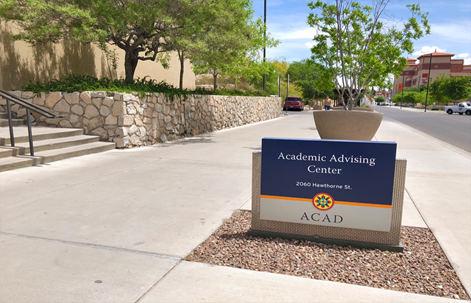 As a fourth-year student pursuing a double major in communication studies and political science and a former minor in environmental science, I have had numerous encounters with the UTEP Academic Advising Center across multiple departments.  
Despite the title of this story, I admit to having positive experiences with the Academic Advising Center. The opinion that it is about to take place does not aim to minimize the positive impact the center has had on students' lives and academic success. On the contrary, its purpose is to highlight my own experiences I notice resonate with those of many of my college friends, classmates and colleagues.   
During my freshman year, I was assigned multiple advisors back-to-back and as a first-year student, I felt vulnerable in an unfamiliar world of academics. I wish I could say my former advisors helped ease that vulnerability, but the inconsistency in the center made it difficult for me to feel guided throughout my first year of college.  
After completing my basic freshmen courses, in the middle of the pandemic, I decided to drop my minor in environmental science and upgrade to a double major. Making these decisions when everyone was working and studying from home made me nervous, and one advisor exacerbated that feeling. When I approached that advisor with my idea, they told me it was pointless and would be a waste of my time and money, with no evidence or explanation as to why. Despite this, I moved forward with my decision, and I do not regret it.  
As I transitioned to pursue a double major, I faced unexpected challenges such as getting in contact with my advisors from separate departments: communication studies and political science, because the communication on their end would take too long and be too vague. I also hoped my advisors would have cross communicated with each other to understand my goal in majoring in both departments and guide me professionally, but they never did.  
In March, the College of Liberal Arts issued a notice to students that it was adopting a new centralized system of academic advising called the CLASS Center. Although it was exciting news, it was another change to the face of my advisor. Given the frustrations I had prior to this change though, I appreciated this system because it meant I could finally receive all my advising in one visit with one person.  
However, one thing I can confirm that has not changed is the impersonal approach to advising. According to the CLASS Center, holistic advising is offered. This includes career exploration and continuing lifelong learning through graduate or professional school. 
This aligns with the official blog of the U.S. Department of Education that states that advisors have the authority qualifications to recommend students with potential opportunities that will enhance their experience as a student in higher education. However, since my time at UTEP, I have not had an advisor connect me with higher professional opportunities such as research opportunities, internships, jobs or graduate school, which is unfortunate because I wish I could have nurtured a mentorship/mentee relationship with my academic advisors.  
The CLASS Center is one step in the right direction and through recounting my academic journey and experiences, I hope to contribute insight that can be used to navigate the challenges and find solutions that will move the incoming generations of Miners toward a more comprehensive system of academic advising.  
I also encourage students to ask their advisors questions that go beyond their schedule and are more applicable to their future success.  
Josie Avila is the audience and engagement editor and can be reached at [email protected]; Joseline Avila on LinkedIn.