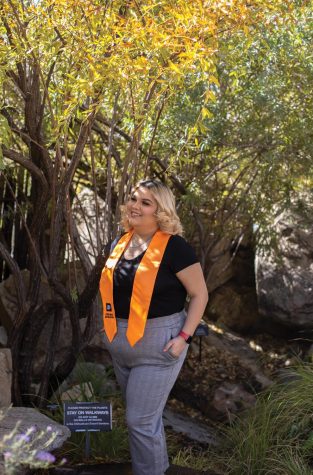 The day of saying goodbye to the University of Texas at El Paso has come and it is never one that I thought I would dread, at least not for the reasons I currently do. Sure, everyone fears the idea of starting a new career or forging a new path, but never did I fear that I would want to stay longer at a place that is focused on academics. 
Upon reflection, my time at The Prospector has given me so much more than experience in the field of journalism. It has provided me with not only friends, family, and connections, but a place to leave behind a legacy. I never imagined that I would leave behind something as amazing as the staff I have formed today, nor did I ever think it would feel like leaving a piece of myself behind. I am so proud of every piece of work that I have contributed to this publication, and I know its success will continue even after I part ways with it.  
In the Fall of 2021, I became the sports editor and it felt as if I had been thrown into a fire. I had never worked in a newsroom outside of high school yearbook and I was petrified. However, I found success with the help of my colleagues and decided to take the next step. At the end of May, I decided to apply for editor-in-chief and started my new position in June. Imagine my surprise when I was just as scared as when I first joined the publication.  
There were plenty of stressful situations and late nights spent at the office in my time as editor-in-chief, having to find new team members to fill my staff and panicking when things were not working out as I intended. However, I would not take a single one back as it led me to the place and person I am today. I would consider my time here a success and it is due to the people that helped me along the way. 
Thank you to my family for providing me with the unconditional love and support necessary for me to embark on this adventure and find success in my time at UTEP. From the rides to and from events to the reassurance offered when I felt overwhelmed. I could not have done it without you. To my mom and my aunt Connie, your support throughout my life has allowed me to see that I could do whatever my heart desired, even if my mind changed a couple times along the way. My only hope is that I continue to make you proud in my future endeavors. 
Thank you to my close friends outside of the publication that supported me and pushed me to be the best version of myself. You all offered me love and support in the best ways and I will forever be indebted to you for it.  
Thank you, Nathaniel, for being the first person to hear me out when I wanted to pursue this journey and encouraging me to take the step and apply for editor-in-chief, it means more to me than you will ever know.  
George and Crystal Enriquez, you two have become so important to me in such a short amount of time and I will never forget the way you took me into your family with open arms or the way you exhibited such excitement when you found out about my new position at the paper. I am so lucky to have you guys in my corner and I truly cherish the bond we have. 
Thank you to my previous adviser, Michelle Martinez Rivera. It is with your confidence and support in me that I found my love for journalism. Without your continued support and advice, I would never have been able to be half the person or journalist I am today. 
Thank you, Itzel (Fifteen) Giron. There are not a lot of souls that are as pure and amazing as yours, and I am so lucky to have found not only an amazing reporter and multimedia editor in you, but also a best friend. The things you have done in your time here have been amazing and I cannot wait to see what you continue to do after I leave here. You always talk about how hard it will be for you when I leave, but I have never talked about how hard it is to be leaving you behind. Working and leading a successful publication with my best friend has been a pleasure I will cherish forever. I know in my absence you will do nothing short of amazing work. 
Thank you Victoria (Nicole) Almaguer. The day we met, also known as the day you addressed me by the wrong name, never did I imagine that we would get as close as we have. You have been my confidante, my light on a dark day and one of the greatest supporters during my time here. Every time I had doubts, you reassured me and reminded me I could do anything I set my mind to, and for that I am forever grateful to you. 
Thank you, Maria L. Guerrero Duran. When I joined the editorial team here, I never thought we would get as close as we have, but in you I found a soundboard, someone to rely on, and someone who was always willing to listen and help in any capacity possible. Seeing you grow as a writer and opening up with each passing day was a treasure to witness, but there was nothing that made me happier than seeing you grow an admiration for football. You are an amazing individual and an extremely hard worker, and I cannot wait to see what you do from here. 
Thank you, Anahy Diaz, for being the role model that I never knew I needed. While my confidence was a red flag to you, the confidence you have in yourself and in me is one that I will forever thank you for. Seeing you make all your dreams come true, one step at a time, is the reason you are one of the biggest inspirations I have had the pleasure of meeting. I miss you every day, but I love knowing that if I ever need you, you are only a message away.  
Thank you, Victoria Rivas. You may be one of the smallest and most dramatic people I know, but in knowing you I have encountered one of the biggest hearts. Your  contributions after a graceful exit in the spring meant more to me than you will ever know. I am so proud of you for juggling all that you have, and I cannot wait to see what you continue to do. 
Thank you, Annabella Mireles. You are an astonishing photographer who happens to be not only a fashion icon, but a friend near and dear to my heart. I may not always show my love for you, but to begin to describe how much your friendship means to me puts me at a loss for words. You are a light every time you walk into the office and an amazing photo editor, I can't wait to see where your photos take you.  
Thank you, Veronica Gonzalez (and bestie llama). You and the front staff helped me with so much more than I could have ever anticipated and welcomed me into this position with open arms. Every step of the way you have supported me, guided me when necessary, listened to me, shaped me into the person I am today, and you have been an astonishing mentor whom I am grateful to have grown so close to. 
Thank you, Tracy Roy, for being a major part of the person I have become in my last year at UTEP. Not only did you help shape me into an amazing editor, but you contributed to me becoming a better person. You never made me feel like any of my ideas were bad, even when they were, and you were here every step of the way. 
Thank you, Isabel Castillo. Upon meeting you, you immediately intimidated me, and never did I think that we would develop such a strong bond. You have listened to me, even when I would talk in circles or make choices that you did not necessarily agree with. You are a mentor, someone I care for, and someone I will admire even after my departure. 
Thank you, Amy Bocanegra. Your constant hard work around the office has never gone unnoticed by me. You are always willing to help in any capacity you can and for that, I am grateful. We both started working here at the same time and I enjoyed every moment we had together throughout my time here. 
Thank you to the rest of my team: Fatima Alvarado, Maya Alvarado, Josie Avila, SalmaPaola Baca, Jasmin Campoya, Roman P. Carr, Gianluca Cuevas, Alberto Silva Fernandez, Eduardo A. Flores, Meagan Garcia, Angelica Gutierrez, Joel Molina, Elisha Nuñez, Rocio Rivera, Alyson Rodriguez, Karina Saldana, Kristen Schaefer, Emmanuel Rivas Valenzuela, Sophia Villalobos, and last but by no means least, Katrina Villarreal.  
All of you helped make my journey as editor-in-chief feel so easy, you have made the work we completed such a proud moment for me to look back on. If journalists like you continue to exist, I know the publication will continue to thrive and tell the stories that need to be heard. The memories, laughs and stories we can tell after this semester will be keepsakes I cherish forever.   
In my year and a half at this publication, I have grown in many ways, both personally and professionally. I have become a better journalist, leader, person and friend. I will forever be indebted to The Prospector and can never truly express my solemn gratitude for it becoming the one place at UTEP where I felt both seen and heard. Everything that I have done in my time here has allowed me to feel ready to graduate and leave the publication in the hands of those after me. 
As I prepare to embark on a new journey, I will end this column with a quote, rather than a goodbye. 
"Be clear in your own mind as to what you stand for. And then stand up for it," said Bill Walsh, one of the greatest coaches in National Football League history.
Emily Autumn Velasquez is the editor-in-chief and may be reached at [email protected]; @byemilyautumn on Instagram; @emilyautumn20 on Twitter.