Editor's Note: This is a review of the event. 
Día de los Muertos is a long-lived tradition celebrated Nov. 1 and –2, that allows families to honor their departed loved ones.  
The holiday is not only celebrated in Mexico or in cities such as Los Angeles, New York and El Paso, Texas, but worldwide. Countries like Spain, Brazil, Guatemala, the Philippines and many others also have traditions to celebrate their deceased.   
An important part of Day of the Dead involves families visiting the cemetery and spending time at the graves of their loved ones. They also build altars known as "ofrendas" which are adorned with marigold flowers, colorful crafts known as "papel picado," personal items and favorite foods of the deceased.   
Design studio Paradigm Shift and artist collective Descatrinados held its closing reception of "Esqueletos & Escaleras," a three-night art show dedicated to Día de los Muertos from 5 p.m. to 9 p.m., Nov. 2, at Artspace El Paso Lofts, 601 N. Oregon St. 
The event was free and open to the public showcasing paintings, photography, engravings, drawings, sculptures and a 6.5 feet tall statue of a "Catrina," the dapper skeleton that is the referential symbol of death in Mexican culture. Free wine, candy and popcorn were provided to attendees during the event.  
Forty participants from Ciudad Juárez and El Paso, Texas were among the featured artists invited. Some of the artists included Martha Baxin, Sergio Miranda, Veronica Gonzalez, Pablo Castro, Mariana Maese, Itzel Aguilera, Elizabeth Flores and Hector Estrada.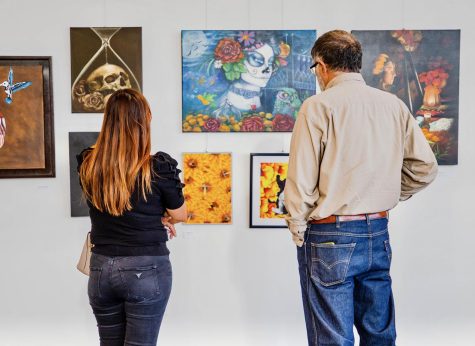 The opening ceremony took place from 12 p.m. to 9 p.m., Oct. 29, with opening remarks from featured artists. Vendors such as Aranzenit Jewelry, Dom's Vegan, Pulsar Desert Native Nursery, Vera and Artesanias Rosa Maria joined the event. Simultaneously, the event was held during downtown El Paso's annual Día de los Muertos festival and parade.  
The second reception was held from 5 p.m. to 9 p.m., Oct. 31 as a Halloween viewing. Guests enjoyed some refreshments and free wine on this night as well. 
Paradigm Shift is an El Paso based award-winning design studio with a global presence. With its team of graphic designers and writers from diverse backgrounds, Paradigm Shift elevates, redefines and brings to life past existing and new businesses and brands with strategic visual design. 
Descatrinados is an artist collective from Ciudad Juárez, Mexico that consists of painters, photographers, poets, sculptors and writers. The collective's name was chosen to honor Cecilia Briones Zúñiga nicknamed "La Catrina" a champion of the Ciudad Juárez underground art scene.  
 Eduardo A. Flores is a contributor and may be reached at [email protected];  @eduardo_aa_flores on Instagram; @floreseduardo on Twitter.