On the inside of the Glory Road Transfer Center and Parking Garage, at the intersections of Glory Road and N Oregon Street, are works of art that you would expect at a museum. The two murals that occupy the entrance and inside of the parking garage are two giant mosaics, depicting an important time in UTEP's history. 
The garage opened in January of 2011 and was a long-awaited arrival that would serve as more parking for students and staff near the Don Haskins Center, along with the Sun Bowl. The garage has also provided parking for restaurant-goers and those perusing the busy Cincinnati Street, which is also a bustling location.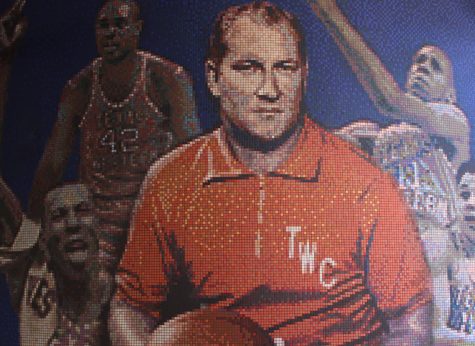 Not only does the garage serve as an important place for parking, but it is also a reminder of one of UTEP's key points in history. 
According to a press release by UTEP in 2011 and an article about the garage by What's Up, the garage was funded by the City's El Paso Art Program. Massachusetts artist, Mike Mandel, created the two murals showing Texas Western's 1966 NCAA Championship and Head Coach Don Haskins himself. 
Created by using one-inch tiles on all sides, Mandel put effort into his work that would be recognized for years to come. The mosaics also serve as a tribute to the UTEP coach who played a key role in UTEP's triumph in the 1966 NCAA Championship. 
"I think the mosaics (portray) a significant part in UTEP's history," said Darla Fraga, a senior at UTEP studying law. "It shows school spirit and is a symbol for students that go to UTEP." 
For more information on events and general parking rates visit en.parkopedia.com. 
Elisha Nunez is a staff reporter and may be reached at [email protected].