The UTEP Symphony Orchestra along with UTEP professor of voice, Alexander Kariotis, performed "The Rock Opera Orchestra" Oct. 28 at the Fox Fine Arts Recital Hall. 
Kariotis is a crossover artist who has performed internationally with appearances at Avery Fisher Hall, New York City, the Berlin Philharmonic, Germany and regional opera houses.  
Several special guests joined the performance including Alan Michaels on drums, Kevin Brown on bass, Hal Hirsch on guitar and Brian Downen on Piano. Special guests also included backing vocalists Odalis Aguirre, Abeni Janae, Zoe K. Mendez, Jaya Monee Edgerton, Ale Nuva, Allie Saturia and critically acclaimed operatic singer Aimee Willis.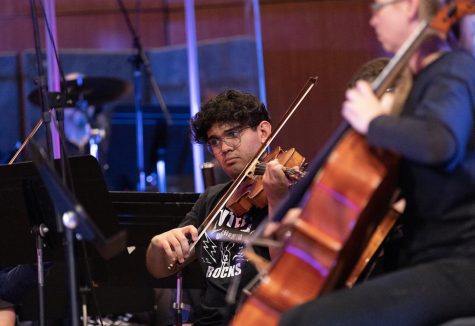 The night included 13 pieces which were mainly combinations of operatic and rock styles of music. The performance started off with "Rondine Al Nido," written by Kariotis and Vincenzo de Cresenco and was followed by "Lucky in Love," written by Kariotis and his late brother Anthony Kariotis. Before playing, Kariotis introduced onstage backup singers Ale, Zoe, and Aimee, Kariotis's wife. "Lucky in Love" is a feelgood romantic song written in both English and Italian. 
The operatic piece "Che Gelida Manina," which translates to "your cold little hand," followed and is based on Giacomo Puccini's four-act opera "La Bohème." It was specifically Rodolfo's Act 1 aria that he sings to his love interest Mimì after falling in love.  
"Come Home Tonight" written by Kariotis and his brother was performed after. Kariotis transitioned to the piano for this piece and before playing, said "it is a song about a man who didn't do so right by his lady." The piece starts off mellow, emphasizing mainly the piano and drums. 
Before going into intermission, the symphony and Kariotis, along with backup singers Jaya, Abeni and Aimee, performed "Because of You" which was written by him and orchestrated by Christopher Reyman, Ph.D. They also played "Solo Amore," or "I'll Stay," which starts off with pizzicato and then transitions to arco after a few minutes. "I'll Stay" is a light-hearted piece that really emphasized the symphony along with Kariotis' vast vocal range.  
After a 15-minute intermission, the performance started back up with "Pieta Signore," which translates to "save this soul," and is written by Kariotis and Alessandro Stradella. This heavy-hearted piece started off with an emphasis on the cello section, serving as a strong accompaniment to Kariotis' vocals. The middle of the piece transitions to more of a jazzy sound and ends back with strong operatic vocals.  
Following this was "Tell the World (I'm Comin')" which Kariotis said he wrote when he was kind of angry. Saxophones were the main accompaniment in this piece, adding an upbeat and lively sound. 
"Vesti La Guibba," which translates to "Hide the Tears," came after, in which Kariotis picked up the guitar. It starts off with a strong introduction from the drums and was overall a cheerful and jovial piece, switching between both Italian and English.  
The last four pieces of the night included "That's Enough for Me," which Kariotis got back on the piano for, and was more of a heart-felt piece where even some of the audience members got their phone flashlights out and swung their arms to go along with the song. They then closed with "Lennon in Heaven," "Nessun Dorma," or "no one sleeps," and "Without Love (You're Nothin')."  
Although the night was greatly composed, performed and even included T-shirts being thrown at the audience, the highlight was "Lennon in Heaven" because of the message behind the song.  
"About 27 years ago, my best friend, my father figure, my brother, and someone who meant the world to me who was also my first voice teacher passed away from Lou Gehrig's Disease," Kariotis said. "One of the last conversations that we had together was very important to me because I asked him, 'Tony are you afraid to die?' and he couldn't speak. It took him a long time to tell me, but he told me he wasn't afraid because when he gets to heaven not only would he get to sing again and look over me, but he'd also get to sing with John Lennon. And that's what this song is about."  
In an interview posted on his YouTube channel, Kariotis said about his late brother, "The day he died was the beginning or the birth of me becoming a crossover artist. A lot of the songs in this album are songs I'd imagine we would have written together." 
For more information on the UTEP music department and their events, visit utep.edu/liberalarts/music/events/ 
Annabella Mireles is the photo editor and may be reached at [email protected] or @photographybyannabella on Instagram.