El Paso has many hidden gems around every corner. One of these secret shops is the Tooth and Veil Oddities and Macabre Shop, which is unlike any store in the Sun City.  
"We get every type of reaction when people first walk into the shop," said shop owner Michelle Bocanegra, who also goes by "Deady Page." 
"People will either walk out the moment they come in or they will look around and explore because they find it fascinating and different. We also have customers who you wouldn't think would come in here. I like watching the reaction of each person who comes in here."   
Bocanegra has been selling oddities and antiques for almost 25 years. She first started out by doing Día de Los Muertos art pop ups. Her specialty was making hats and she would sell them at pop ups all around the country. Before she was a shop owner, Bocanegra wanted to work in funeral homes at first but realized that it was not for her. However, she was still fascinated with the aesthetic and history of it.   
This store is something Bocanegra wanted to give to El Paso because she always wanted a store like this when she was growing up. She was inspired by her neighbor who had a vintage clothing store and a big warehouse she used to go to when she was younger that sold costumes, apothecaries and goth items. The biggest inspiration for Bocanegra though, was her grandmother who was a bruja (witch) and a curandera (healer). She gained all her knowledge on curanderismo from her grandmother.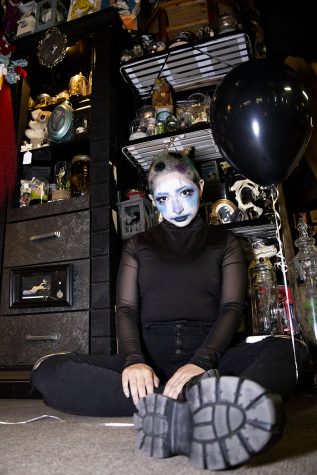 She was inspired to start her own store and she began to collect items she would buy in big cities such as New Orleans and New York City and then she would upcycle them and make them her own unique creation to sell.   
"I would see things that were broken and that nobody was buying," Bocanegra said. "I'm a sucker for the underdog, I've always thought that the underdog should shine somehow. So, I started doing upcycling. I would add something else to the piece that would make it stand out, and after everybody wanted it."  
Tooth and Veil Oddities and Macabre Shop is more than just a store full of interesting finds, it is a lifestyle. Visitors are taken aback by the unique store that sells everything from T-shirts to vinyls, jewelry and vanities, vampire roses, handbags, hats, accessories, apothecary, curanderia herbs, books, mystical items, altar items, knickknacks, tumblers, mugs, taxidermy, wet specimens, home furnishings, upcycled pieces, toys, antiques, photos and pretty much everything under the sun.   
The store also hosts many different events throughout the year, especially around the Halloween season. Some of these events include monthly Mourning Tea Parties, monthly Mystical Markets at Keystone Heritage Park and the Annual Full Moon Vampire Ball.   
"We source a lot of the things we sell here from El Paso," Bocanegra said. "We are buying upcycled things that are old and are not being manufactured in mass quantities or sold on the internet or mall. You are supporting local artists, a local mother, and a local family when you buy from us."  
The store is open from 12 p.m. to 4 p.m., Tuesday through Thursday. They are also open 12 p.m. to 6 p.m., Friday and Saturday and are located at 820 N. Mesa St., Suite 200.  
To learn more about the store or to see what events they are hosting, visit their website at toothandveilshop.com/ or follow them on Instagram @tooth_and_veil_oddities.   
Alyson Rodriguez is a staff reporter and may be reached at [email protected]; @alyson_rod1127 on Twitter.