"Dracula" started its first showing Friday, Oct. 14, at the El Paso Playhouse. Saturday's performance opened to a packed house, eager to see the Halloween classic with some audience members even dressed for the part.  
Rebecca McVay Condra, the play's director, welcomed its guests before the performance. She informed them that the play would be slow in the beginning, and it was. Although the actors were phenomenal in their roles, the story took some time to pick up.   
However, Condra delivered, making up for it about an hour in. I was fully engulfed before we reached the second act.   
"Dracula" tells the story of Jonathan Harker, who has traveled to Transylvania for a business deal with Count Dracula and Mina, his fiancée, who is trying to solve the peculiar behavior of her closest friend, Lucy. The Count travels to London in search of new blood to feast upon when he discovers Mina and Lucy. A series of events leads to the arrival of Professor Van Helsing to solve the case before it is too late for Mina.  
The play "Dracula" was adapted in 1996 by Steven Dietz and is based off the famous Bram Stoker gothic horror novel of the same name. The story was originally published in 1897, according to bramstoker.org.   
The actors that really stood out during the performance were Robbie Garcia as Renfield, Dracula's loyal servant who is locked away, Kevin Kellog as Harker, and Hector Azurmendi as Dracula. A notable scene for Alyssa Voight as Mina, is when Mina encounters Dracula after their initial meeting. Natalia Sosa Quiroz, Paula Vasquez and Ava Trousdale, as the vixens, were hypnotic and their performance filled the room.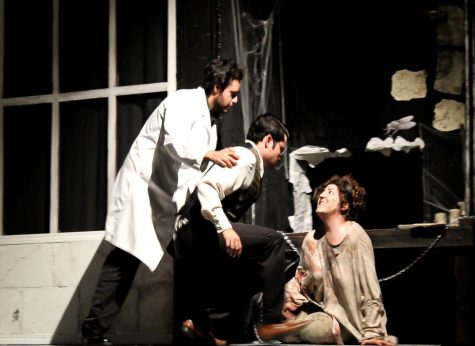 The director keeps the audience engaged with hints of terror creeping into the room as the actors utilize the entire space of the house, sneaking up on the audience at times.   
Overall, I would say the play was a little slow, but is amazing once it gets passed the exposition. The acting was great with most actors having their moment to shine in specific scenes. I give this an eight out of 10 and highly recommend checking it out before the end of the Halloween season.  
Dracula is playing from Oct. 14-30 at the El Paso Playhouse. Tickets may be purchased at theelpasoplayhouse.com. People can also contact the theatre at 915-532-1317. Donations can be made on the webpage as well. 
Kristen Scheaffer is a contributor and may be reached at [email protected].