Beto O'Rourke, who is currently on the road trying to gain traction for the Texas gubernatorial election, made the final stop of his college tour Tuesday, Oct. 11 at the El Paso Natural Gas Conference Center at UTEP. Filled with students and community members, O'Rourke shared his ideals for what he hopes to do if given the opportunity to become the next Governor. 
When talking to students in attendance, they hoped Beto would touch on topics important to them including immigration, abortion and college education. It has been 27 years since the state of Texas voted for a Democratic governor and some do not know if what Beto has said and done is enough to see a change.  
"I don't know, I'm not sure (if Beto could say anything to help him win)," said attendee Ericka Torres. "I just hope one day I get to live and see Texas turn blue." 
During his time speaking to those in attendance, he touched base on key issues facing the state of Texas and students here on campus. However, O'Rourke has spoken about further improving the K-12 education system but not much on secondary education, such as making it more financially available.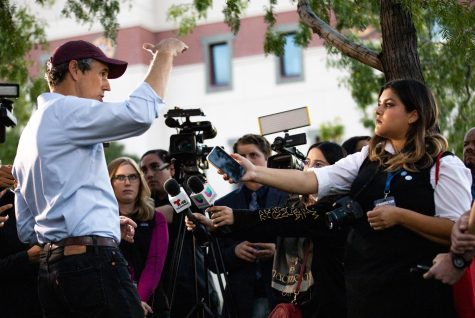 "I want to make sure it is more affordable, more accessible to attend the University of Texas at El Paso, or El Paso Community College or any institution of higher learning," O'Rourke said. "Let's make sure we have resources here at UTEP, or where I just was at Texas Tech, or any place else that we connect people with higher learning and better career opportunities." 
Throughout his campaign trail, voter registration has been a key talking point and with voter registration ending Oct. 11, he again further pushed that point and had volunteers available to help register anyone to vote. Early voting begins Oct. 24 and runs through Nov. 4 with election night being Nov. 8.  
Itzel Giron is the multimedia editor and may be reached at [email protected]; @by.itzel.giron on Instagram; @itzel_anahi_16 on Twitter.