Traveling to a new country to pursue a better life is a sacrifice that many migrants are currently making in their journey to the U.S. They flee due to circumstances such as violence, environmental factors, economic opportunities and other reasons. Recently there have been a record number of Venezuelans crossing into the U.S. from Mexico.  
Considering the current immigration situation, UTEP's Centennial Museum has welcomed a new exhibit called, "Pasos Ajenos: Social Justice and Inequalities in the Borderland."  
This exhibit was created to communicate the abstract concepts of oppression, racial inequalities and power to the larger audience within the borderlands. The title "Pasos Ajenos" is meant to recognize our communal and humanitarian capacity for empathy, solidarity and inclination for justice as we try to walk in the shoes of others.  
"This is a collaboration with two professors at New Mexico State University and their colleagues, artists and a carpenter who incorporated all of their ideas and made them into a reality," said Daniel Carey-Whalen, director of the Centennial Museum and Chihuahuan Desert Gardens at UTEP. '"Pasos Ajenos' is telling a story of putting yourself in someone else's shoes. It's telling the story of the border through non-traditional lenses."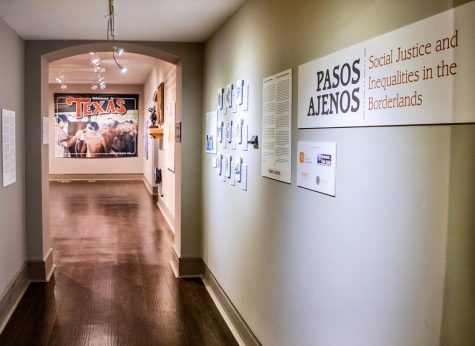 Some exhibits included:  
"Environmental Justice" 

 

"La Loteria" 

 

"Many Hands" 

 

"Omitted Narratives" 

 

"Carmelita Torres and Bath Riots" 

 

"Welcome to Texas" 

 

"Border Book" 

 

"Buffalo Soldiers in the Borderlands" 

 

"State & Grace" 

 

"Who is a Migrant" 

 

"Labor"

 

"Community Basket" 

 

"Seeing your Social Significance" 

 

"Mapping or Perceptions" 

 

"Soundscape" 

 

"Good, Bad, Complicated" 

 

"Caution Sign on the Border" 

 

"Language Tool Kit" 

 

"Love without Borders"

 
The exhibition showcases many hard topics in interactive ways. Visitors of the museum can learn about these things through playing card games, writing on the wall, a tall cylinder with revolving segments, and many other interactive activities.  
"Each of these vignettes is dealing with an issue on the border and a lot of times they're about negative things that have happened," Carey-Whalen said. "It's important to talk about that side of history." 
One portion of the exhibit that stands apart from the rest is "Love without Borders." It incorporates a healing element to the exhibition. This art installation allows people to heal the division or the borders that they are feeling by sharing with another person. It features a telegram made from wire from one of the co-creator's grandparents talking about the love that they share and how they cannot wait to see each other again. This art piece is meant to show that love cannot be separated by a wall, love will always transcend borders.  
"Our mission here is to focus on the cultural and natural history of this region. El Paso and Juarez are one community, but we are separated by this border," Carey-Whalen said. "We like to tell the story of the border community and it is important for us to be telling these stories. I really like this exhibit because it helps us look at the complexities and it does it in a very fun way." 
The interactive exhibition is open from Aug. 13 to March 4, 2023 at Centennial Museum. 
For more information visit utep.edu/centennial-museum/ 
Alyson Rodriguez is a staff reporter and may be reached at [email protected]; @alyson_rod1127 on Twitter.