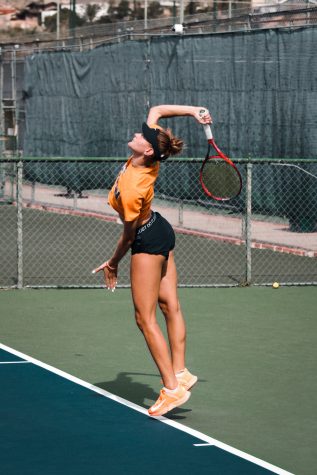 Junior tennis player, Elena Dibattista, has found her way with the UTEP tennis team. A native from Agrigento, Italy, Dibattista has been playing tennis since she was eight years old, but before she had tried gymnastics. It was her father who convinced her to join tennis because of the fact she did not like going to gymnastics. 
"So basically, my dad was a tennis coach, so that's why I started (playing tennis). I used to go to a gym, as a gymnastic artist," Dibattista said. "And at one point I didn't want to go anymore, and my dad said, 'let's play tennis.'" 
She also explains what motivates her to play well and expresses some aspirations.  
"It's just a dream, like when I think about me winning Wimbledon or a tournament, it gives me a fire inside and makes me want to go," Dibattista said. 
Dibattista shared how brutal her schedule can be trying to balance her academic and athletic responsibilities. 
"The goal is to try to play my best tennis, it's not easy here, we practice here every day three hours then gym," Dibattista said. "It's very hard to keep up with academic stuff and everything and we travel a lot, and I'm trying to get better every day for myself and my team." 
Dibattista can be seen in action as the tennis team begins its season Sept. 30 at the San Diego State University Invitational.