In recognition of Pediatric Cancer Awareness Month, El Paso Children's Hospital and Sunflower Bank have provided a space for an art installation. On display is the art of pediatric oncology patients, located at Sunflower Bank's downtown location, 201 East Main St.  
Sunflower Bank has promised $50,000 to El Paso Children's Therapeutic Arts Program. This program is used to help children stricken with cancer destress from aggressive therapies used to fight the disease. Talk for the installation began in February 2020 leading to the first installation.  
"We had conversations about putting some kind of local art on that wall. We thought about a mural, like the ones they had where they're all over the town, and then when we saw this, this is the perfect thing that we need to do here," said Ernesto Avila, regional president for El Paso and Las Cruces Sunflower Bank. "We need to use this wall to showcase what this program is about and what they do for the community." 
The current installation is the second one done for the bank, replacing the previous one. 
Any child that is considered long-term at the hospital has access to the program, though the primary recipients are oncology patients. Pediatric cancer is the number one cause of death by disease for children in the U.S.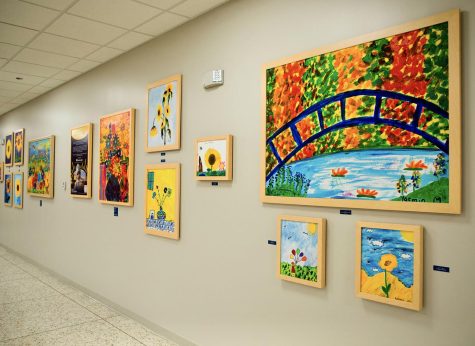 "We really get to show that they are our neighborhood. A real grounded institution that serve their community. They're grounded here. They live, breathe, eat, sleep. Our people, which means for better service, for better ability to serve their community," said Abigail Tarango, executive director of El Paso Children's Hospital Foundation, when referring to the collaboration with Sunflower Bank. "And then it really allows us the opportunity to talk about a program that's making a difference in community members' lives.  
According to Tarango, she stresses the importance of how each dollar goes back into the program, providing supplies to better serve the children and the needs of the Therapeutic Arts Program. The Foundation prides itself and believes in the importance of giving to the program.  
At the installation, the community can find various art from the children, and in some cases a family member, mostly consisting of sunflowers. In the center sits a collage of flowers and insects collected from the children's paintings. Also, there's a sign describing the program for those interested with a QR code to read about the children and see them in action.  
For Pediatric Cancer Awareness Month, Sunflower Bank and the highway lights by Bassett Place will be lit gold. Other installations can be found at El Paso International Airport and Southwest University.  
Anyone who is interested in volunteering at El Paso Children's Hospital can reach Abigail Tarango at [email protected]. 
Kristen Scheaffer is a contributor and can be reached at [email protected].