The building itself is like an old cinema from 1920s New York. With an art-deco style, bright neon lights to glow during late hours of the day and iconic framed movie posters, it looks like something straight out of a history textbook. This is El Paso's newest downtown edition, Aaron and George's Film Café.  
With the cafe's grand opening Sept. 14, owners Douglas Winter and Rebecca Muñoz are eager to share their love for films and food with the rest of the community. Located at 105 Texas Ave., this local business is now breathing new life into downtown El Paso. 
Winter never would have imagined himself finding a film café in El Paso. Originally from New York City, Winter built a successful arbitration business in his hometown. It was not until an accident led to him settling down in El Paso. 
"So, in the summer of 2018, I had a business in New York for 30 years. I was going across the Brooklyn Bridge, and I had oil on my motorcycle, it broke all my bones and crushed my lung. I was a mess," Winter said. "I couldn't run my business, (but) it was doing great. I'm so lucky (it) was doing well at the time so I could sell it right away. (Afterward) there was no reason to stay in New York, so I bought a pickup truck and put an overhead camper (then) went west." 
Following his travels west, Winter made a stop in Silver City, New Mexico, where someone informed him about an immigration protest taking place in Juárez. Interested, Winter decided to travel to Juárez passing through El Paso on the way. Until that point, El Paso was just another city to travel through, but it was here he met Muñoz, a native El Pasoan.  
"(I) was just passing through El Paso to get to Juárez. El Paso meant nothing to me, (but) I eventually met Becky," Winter said. "(I) learned more about El Paso, learned about Becky, (then) we decided to be together." 
After the two got to know each other, it was not long before the COVID-19 pandemic hit. Although the pandemic caused separation and destruction, it was also a time to connect and create, especially in the case of Winter and Muñoz. 
"The idea came mainly (because) me and my partner were interested in having a business together, and so we started putting our heads together to think about what we could do," Muñoz said. "One of the ways that we connected as a couple was during the pandemic. There wasn't a lot of places to go because everything was shut down so we would just show each other our favorite movies. That's kind of where the idea spread, that we could combine our love for movies and light tasty treats into a cafe." 
Their plans for a film café would not come to fruition until early 2022, but not without facing challenges. 
The first major decision was choosing the location and the two did not know where to start. After a few drives around town and in the downtown area, Muñoz kept recognizing the same space. Sure enough, that would become the location of the future café. 
"We were driving around looking for a space, and we kept passing by this location. If you look outside, it kind of has like, the art-deco feel to it," Muñoz said. "There's an awning that looks like a film marquee. We wanted to be downtown because we feel like there's a lot of development happening here. It's kind of a hub for arts and culture, so we thought this would be a good place to lay down our roots." 
When the location was secured, it was then time for the two to organize and design the interior. Due to the pandemic, it was difficult to access some furniture items or materials they needed. Along with the difficulty of finding and getting their furnishings on time, research also had to be done on how to show these movies to a café audience. 
"My brother built the counters for us, so everything's kind of homemade. We just really wanted to kind of make it feel cozy," Muñoz said. "With the pandemic, there's been a lot of supply chain issues, so things have been (backed up), our tables and chairs took forever to come in. So, you know, we've had some ups and downs, but more ups., We're happy to be open finally. " 
Following the completion of the café, it was time for a name. Some were thrown out there, but nothing really stuck. Aaron and George's Film Café was ultimately the name that Winter and Muñoz settled on.  
However, someone might be asking themselves, "who are Aaron and George?"  
The café was named after the grandfathers of the owners, with Aaron being Muñoz's grandfather and George being Winter's.  
Pointing to a picture inside the café, Winter gave the backstory of the patriarchs who inspired the business's name.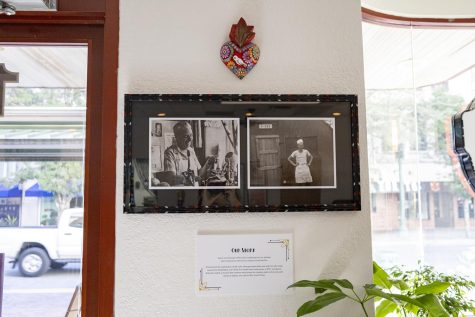 "This is Aaron, of Aaron and George's Film Cafe. This is Rebecca's grandfather, who was a great cook. That's him during the Korean War. He learned to cook in the army. He's (about) 17 years old there. Everybody in the family tries to replicate his recipes as best as they can. This is my grandfather. This is George. 'Hi Grandpa!'" Winter says. "So, Aaron had a restaurant on El Paso Street a long time ago. My grandfather had a restaurant, one of the very first (healthy) food restaurants in New York, called The Salad Bowl." 
Aaron and George's Film Café is open and ready to take in cinema lovers from across town. The café is closed on Mondays and Tuesdays but is open for the rest of the week. There is also a menu for customers who wish to enjoy a film with some popcorn, a cookie, or even a coffee. The egg cream is another must-try.  
Films that will be shown at the café vary from independent movies to household names. The café serves as a place for people to enjoy movies together and gives aspiring filmmakers the opportunity to display their films.
"We want to show independent films, classic films, and hopefully expand to showing local films for El Paso filmmakers and making this a place for them to showcase their work," Muñoz said. "We wanted to show things that are a mix of classic favorites, but also things that people might not know about, things that are a little bit more obscure." 
For more information on screenings, visit the café's website www.aaronandgeorgesfilmcafe.com.  
Elisha Nuñez is a reporter and may be reached at [email protected].