UTEP's football team honors late tight end
Luke Laufenberg is a name that is well known in the UTEP community. Luke passed away from complications of Burkitt's Lymphoma at the young age of 21, but his legacy lives on forever. 
Luke was a very caring individual. His father, former Dallas Cowboys quarterback Babe Laufenberg, explains that Luke was everyone's best friend. When he passed, Babe received 30 texts from boys and girls letting him know that Luke was their best friend. When Luke was diagnosed as terminal, he made sure his loved ones were taken care of. 
"A number of his friends told me later, (Luke) had said to them 'make sure you take care of my mom and dad,'" Laufenberg said. 
Luke did not always want to play football. According to Laufenberg, Luke played basketball for most of his life until his sophomore year of high school when he decided to play football. Laufenberg mentions that Luke was approached by a good friend of his, who also happened to be the coach of the middle school's football team, trying to recruit him to play football, but Luke stuck with basketball. 
"You'd be hard pressed to find a kid his size with some athletic ability in Texas who didn't want to play football," Laufenberg said. "He was his own man, all the way through. He was never influenced by the crowd, or peer pressure. If he wanted to do something he was going to do it and if he didn't, he wasn't." 
Before attending UTEP, Luke attended Mesa Junior College.  Luke went home with a horrible pain Dec. 13; 10 days later Luke was diagnosed with Burkitt's Lymphoma.  
According to Dave Campbell's Texas Football, Burkitt's Lymphoma is a form of the B-cell non-Hodgkin's Lymphoma, it is the single fastest growing tumor, and it only has about 1,200 cases reported in the United States. Burkitt's also speeds up the metabolism by about 75 times above the normal rate. 
Laufenberg explains that Luke would do a week straight of chemotherapy, totaling six rounds, he went from 240 pounds to 150 pounds just as he was starting to get recruited. Luke kept fighting and was able to build his body back into football form. 
"Honestly, sheer hard work and determination like I've never seen, and I played in the NFL for eight years," Laufenberg said. "I'd seen tough guys. I've seen determination. I'd seen guys come back from injuries, right? All we were doing was hoping to keep him alive and all he was doing was thinking, 'how am I gonna get back to playing football?'" 
UTEP Football Head Coach Dana Dimel went back to watch Luke's film and liked what they saw. He went on a recruiting trip and saw Luke looked like he was back to normal. Luke was pronounced cancer free and arrived at UTEP in January and got to practice alongside the Miners for almost four months. In April, Luke started to have back pain once again. 
"We were like, we better get this looked at and it was not good news," Laufenberg said. "They had told us, when they first had the diagnosis of Burkitt's, we basically get one shot at this. It's not one you just keep treating, treating, and treating, but we did ultimately. We tried, but we knew when he relapsed, it was going to be a difficult situation for him to come back. But he almost did it (beat the cancer) again." 
Luke passed away Aug. 22, 2019, but his legacy lives on forever with the "Live Like Luke" tradition, from wearing his jersey number with his last name to the newly built fuel station for the football players to go and enjoy a delicious smoothie in honor of Luke's love for protein shakes, which was provided by the Laufenbergs. 
"Initially we were going to donate a scholarship in his name – just fund a scholarship for a player – but then his brother, Joe Willie had said, 'Why don't we do something that benefits every player, as opposed to just one.' I said that's a great idea and then the nutrition station came about," Laufenberg said. 
Former UTEP wide receiver Justin Garrett was the first person to wear Luke's jersey number and last name; he wore it for two years.  
"For him (Garrett) to put Laufenberg on the back of his jersey and now Gavin Hardison doing the same. I mean, what kid doesn't want their own name on the back of the jersey right," Laufenberg said. "For them to do it, I will say it's a selfless act and kind of epitomizes Luke."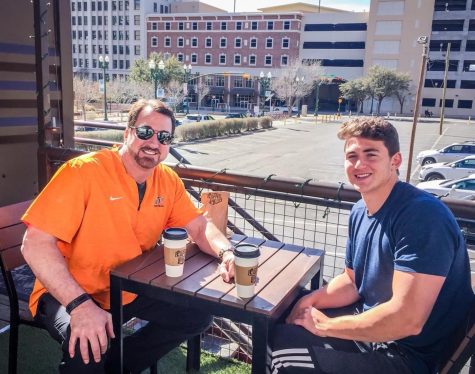 Garrett explains that he and Luke became friends because they were always in the weight room putting in extra work any chance they got.  
"Whether it was 8 a.m. on Saturday or during the week, Luke was always there," Garrett said. "We also became friends because we both played offense and carried a desire to play, so we worked out extra with the quarterbacks." 
Garrett mentions that the tradition to honor Luke came about because of the impact that Luke had on UTEP. Coach Dimel gave Garrett the opportunity to wear Luke's jersey number, in which they decided to keep Luke's last name to demonstrate the importance of his legacy in UTEP football.  
"Wearing the #2 at UTEP meant the world to me, I was glad that Babe Laufenberg and coach Dimel granted me the opportunity to wear it," Garrett said. "The game is much bigger than myself and anybody really, so when I put on the jersey it was a daily reminder of the importance of what the jersey and the tradition represented. To 'Live Like Luke!' Not just on the field giving your blood, sweat and tears but in your daily life. Continue to fight and never give up." 
This year junior quarterback Gavin Hardison honors Luke by wearing the number two with the Laufenberg last name. 
One of Luke's close friends, Wadie DiFrancesco, decided to create wrist bands to honor Luke.  DiFrancesco explains she got inspired to create wrist bands while at a sorority rush where she saw someone who had bracelets for cancer. 
"This is something everybody could wear if they wanted to," DiFrancesco said. "I was like 'what do I want it to say' 'how do I want it to be designed,' and then I thought, Luke loved the (Dallas) Cowboys, very traditional guy. Blue and white and I kind of picked a font that resembled him. On the inside – nobody really knows this – there's an engraving in the same color of the bracelet and it says, 'Fight Like Lauf' because he was a fighter." 
To DiFrancesco, "Live Like Luke" means to be selfless, always think about others, always be willing to do something fun, and always do things at 110 percent. 
"He was definitely a live-in-the-moment kind of guy," DiFrancesco said. 
"They've just been fantastic quite honestly," Laufenberg said. "The people there (El Paso) have been so friendly and are so friendly. It says to me it's such a welcoming place. So, once I was there with Luke and we moved him into his dorm room and I just thought, 'okay, he's in a good place here' and I think he felt the same way; he'd never really been to El Paso, but I think he felt like 'I've got a second home here.'"
Katrina Villarreal is a staff reporter and may be reached at [email protected].