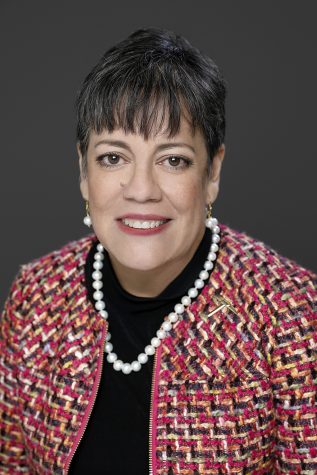 In recent years, the U.S. has had many water crises where low-income communities had unsafe drinking water. Some of the more well-known instances include the Flint Michigan water crisis in 2014.  
UTEP Associate Professor of Civil Engineering Ivonne Santiago, Ph.D. and her team are collaborating with Texas Water Trade with the launch of entrepreneurial "Vida Water" to provide safe drinking water to underserved communities across Texas. 
Santiago's team includes CEO of Texas Water Trade, Sharlene Leurig and Jim Drees, the inaugural CEO of Vida Water. From UTEP it includes Professor of Civil Engineering Shane Walker, Assistant Professor of Public Health Jeannie Concha, Director of Center for Environmental Resource Management and Professor of Civil Engineering Alex Mayer, UTEP students Leslie Nuñez and Ingrid Gust.  
Other team members include Daniel Brent, assistant professor of agricultural economics, sociology and education and UT-Houston School of Public Health, El Paso Campus Dean of the School of Public Health, Kristina Mena.  
Vida Water is also working with community organizations Familias Triunfadoras from El Paso, Bridge4Health in Dallas, Community Care in Houston, Coalition of Community Organizations from Houston, and the Lower Rio Grande Valley Area Health Education Center.  
"Access to safe drinking water is important," Santiago said. "Because if you don't have it then you do not have good health then you are not able to do anything. The issue of safe drinking water access to communities, is an issue of equity because there is a disproportionate amount of people that are low income and people of color that don't have access to safe drinking water." 
According to Santiago, the Vida Water project is not a big project that you invest millions of dollars into and immediately see a financial return, it is an investment in people, and it promotes social mobility, sustainability, and social justice. 
Santiago and her team have been working on this project since 2012, they have previously received grants that have helped them educate, do outreach, and provide filtration units for free. Once they had used all the grant money, they would have to stop the project until they received more funding. The Vida Water project today has been provided funding that will make access to safe drinking water sustainable due to the grant they received from the Texas Water Trade nonprofit. 
The nonprofit, Texas Water Trade, is an organization that is devoted to harnessing market knowledge and technological innovation in order to provide clean and safe water to all Texans. They recently gave the team a grant for nearly $115,000.
"For me this is a dream opportunity," Santiago said. "We are proposing a subscription model, to provide low-income minority populations with these filtration units at a minimum cost. We will also provide maintenance, troubleshooting and take samples of these filtration systems in order to ensure that the water in these communities is safe." 
Vida Water is currently launching 650 surveys in communities in El Paso, Dallas, Houston and Arlington. It is gathering information in order to develop a business model. The survey has questions on purchasing scenarios, behaviors, health assessment and financial questions that will help design a business model. The group is also hiring people from low-income communities to disperse the surveys. After this step, itwill begin doing focus groups.  
In order to help low-income communities with unsafe drinking water, Santiago and her team applied to the Lone Star Price, which is a $10 million grant to solve a grand challenge in Texas and is provided by the Lyda Hill Philanthropies Foundation. In 2019, Santiago and her team applied for the grant but then COVID hit. At first, the foundation chose a different organization to win the grant, but they were one of the five finalists out of 180 applications. But the foundation reached out because they did not realize what a huge issue unsafe water was in Texas and granted Santiago and her team the money. 
"The great thing about this business model is that we want to create employment opportunities within these low-income communities," Santiago said. "There is a workforce development component here. We want communities to feel empowered and take ownership of this business that will benefit them financially and opportunity wise along with providing them with safe drinking water." 
Here in El Paso, there are lots of people who do not have clean drinking water. Once the research phase is completed, people from the community can volunteer to help with the cause. 
Alyson Rodriguez is a staff reporter and may be reached at [email protected]; @alyson_rod1127 on Twitter.