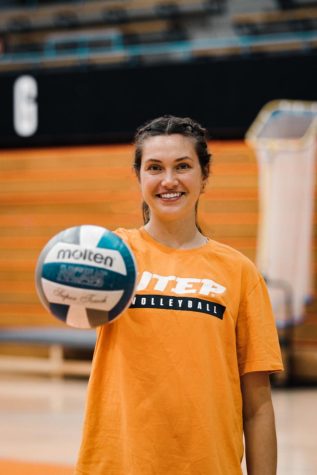 Former top ranked New Mexico volleyball player senior middle blocker Vittoria Price has enjoyed success with UTEP volleyball for the past two years.   
Price was a multi-sport athlete, however she settled into volleyball because it is the sport she enjoys the most. 
"I've just been into sports from a really young age and volleyball is just the one I stuck with," Price said in a Sept. 7 interview. "I didn't really like basketball or track, volleyball is just the most fun to me."  
Originally from Roswell, New Mexico, Price attended Goddard High School where she posted great stats. Price helped lead her team to a 4A District 4 Championship in 2019. Price was also selected to the New Mexico All-State First Team in 2017, 2018 and 2019.In her senior year, Price had 169 kills, 2.6 kills per set, a .329 hitting percentage, 25 service aces, 12 solo blocks and 70 block assists. 
Price wrapped up her high school career with 458 kills, 2.5 kills per set, a .216 hitting percentage, 88 solo blocks, 123 block assists, 1.2 blocks per set, and 117 digs over 181 sets played. 
After the conclusion of her high school career, Price then attended New Mexico Military Institute for two years before coming to UTEP. She continued to put up great stats, ranking first with the Broncos in 2019, with a total of 175 blocks and second with 442.5 points to put NMMI's record at 37-5 for the 2020-21 season. Price ranked 11th in the NJCAA Division I with a .371 hitting percentage.  
After her two years at NMMI, she came to UTEP for her junior year. In the 2021 season, Price started in 27/32 matches with 111 sets played. Price had an overall hitting percentage of .430 that led the team among players with at least 100 kills. 
Price then achieved a season-high eight total blocks versus Florida International University during the C-USA Championship Tournament. Price also had her best match performance against the University of Texas at San Antonio, totaling out to 16 kills, 20.5 points, .750 hitting percentage, and three service aces. 
Price also contributed to the Miners' 24-8 season by helping them reach the National Invitational Volleyball Tournament (NIVC). Price also talked about what it felt like to compete in a post season tournament. 
"It was super awesome, so after we lost at conference (Conference-USA Tournament), I think the team was feeling a little down," Price said. "We weren't sure what to think of the NIVC, cause none of us had competed in something like that before. Once the crowd started, we got really excited.." 
When not playing volleyball, Price makes time to listen to music, camping and hiking. 
"I'm a big music fan, I listen to a lot of people; but I think my favorite (singer) would be Cautious Clay," Price said. "I really like camping and hiking. I like to be outside and just out in nature." 
Price is striving to help her team reach the goals they set for this season while improving as they go. Last year UTEP was able to take a big leap and Price hopes to take a bigger leap this year. The last time the Miners volleyball team had a winning record was back in 2011, when the Miners went 19-14. 
The Miners begin conference play against the University of Texas Rio Grande Valley at 7 p.m. Sept. 19 at Memorial Gym. 
Stats provided by UTEP Athletics. 
Daniel Alec Lopez is a contributor and can be reached at [email protected].