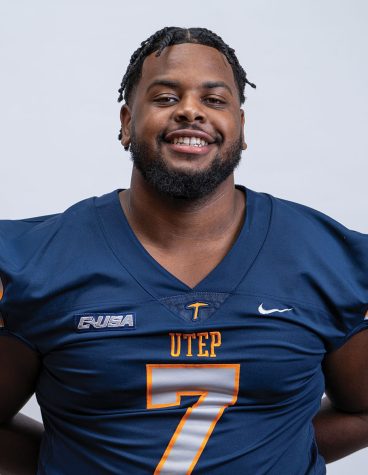 Returning senior defensive tackle Kelton Moss, is making an impact on the Miners defense. Last year, Moss contributed in a big way for the Miners, making key stops and rushing the passer to force interceptions. Moss played a very big role on the defensive line. 
In the 2021 season, Moss started at defensive tackle in all 12 games and recorded 23 tackles, one pass breakup, one quarterback hurry and a fumble recovery. Moss matched his season high three tackles, each versus Old Dominion University, the University of Southern Mississippi, Florida Atlantic University and Rice University. 
During the 2020 season, Moss was credited with 20 tackles, three tackles for losses, a sack and a quarterback hurry. He was a big reason why the Miners took a step forward in the 2021 season defensively. 
Moss comes from Jonesboro, Louisiana and played high school football at Jonesboro High School. While playing there, Moss earned all-state honors for the Tigers during his days at Jonesboro-Hodge. 
Moss then attended Kilgore College, where he played from 2018-2020 and made an impact there. Moss recorded 59 tackles, nine tackles for loss, five sacks and three forced fumbles in 2019.  
As a freshman in 2018, he played in 12 games for the Rangers, recording 52 tackles, 30 solo tackles, having three sacks, three forced fumbles and an interception. Moss also helped lead the Rangers to an 18-4 record in his two seasons at Kilgore.  
Moss models his game after starting nose guard for the Green Bay Packers, Kenny Clark. 
"I love watching Kenny Clark, nose guard for the Green Bay Packers, his game is similar [to Moss's], he's a [guy] that can disrupt the pass and the run," Moss said. 
Moss explained how he got into football as a kid. 
"Growing up as a kid, my mom didn't always have the money to support me and all my other siblings, so I always went outside and play [football] with my friends and things like that till it became free for me [playing football] when I got in middle school," Moss said in an Aug. 23 post-practice interview. 
He also explained what motivates him to train hard and to keep going. 
"Just knowing I can change my family situation, just coming out here each and every day, trying to get better, and that I can go to the league and help my family out so we won't be struggling," Moss said. 
Moss strives to improve at every practice while also helping his team win games. With his big jumps from the previous two seasons, the Miners should make another grand leap this year. 
The Miners take on New Mexico State University for the Battle of I-10 at 7 p.m., Sept. 10 at the Sun Bowl.  
Stats provided by UTEP Athletics. 
Daniel Alec Lopez is a contributor and can be reached at [email protected].