Guillermina Nuñez-Michiri Ph.D. says farewell to UTEP after 18 years of service
Director of Women and Gender Studies Guillermina Nuñez-Michiri, Ph.D. prepares to leave UTEP as she is set to start her next appointment Aug. 4 as the first Latina dean in the 125 years of San Diego State University's history. 
Over the course of her 18 years, Nuñez has served the university as visiting assistant professor, assistant associate professor of anthropology, president of the Faculty Senate, and director of the Women's and Gender Studies program.  
She has been appointed as the new dean for San Diego State University Imperial Valley, Nuñez has been able to teach and mentor thousands of students whom she refers to as her biggest accomplishment.  
"I love being a professor. I run into my students everywhere and they go, 'profesora! doctora!' and that fills my heart with joy," Nuñez said.  
Growing up in the borderland region of southern California and Baja California, Mexico has allowed her to connect with her students not only through the lectures but through her stories of growth. Her college experience as a student who worked two full-time jobs, while she completed her degree, and helped her family's finances helped her forge character and accomplish goals.  
Due to the similarities between her hometown and the El Paso-Juárez area, she is able to empathize with the students and faculty.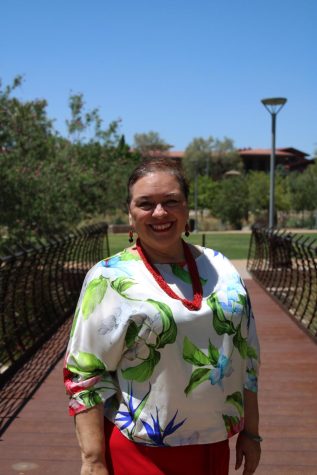 "It's been incredibly transformative (working at UTEP)," Nuñez said. "It's been an honor to serve at a leading Hispanic institution. We serve a working-class demographic that has a household income that is way below national or state level. But in spite of that we are not defined by our economic resources. We are defined by our character, by our work ethic, by our belief that if we give people the opportunity, they will build on those opportunities and create a life worth living." 
Nuñez said UTEP is a place of growth and that she would always encourage students to seek further opportunities for growth, both professionally and personally. 
"Everything I tell my students is 'don't be afraid,' so (now) I tell that to myself 'don't be afraid to go, don't be afraid to fly,' because I must trust that all these experiences at UTEP have prepared me to enter a position of leadership." Nuñez said. 
Since 2015, she has overseen the growing program of Women's and Gender Studies, seeking to create a safe space of learning and community for students, faculty, and staff. 
"I really care for WGS. I think it's a wonderful program. The program is in a good place. It's developed a reputation in the community," Nuñez said. "I trust that whoever comes in will maintain that commitment to community and our mission at UTEP of access, excellence and impact." 
She says goodbye to the university with a reminder to the community to continue seeking opportunities to grow, to learn, and to pause and enjoy the experiences at UTEP, which she assures will bring joy to any individual. For her, leaving an imprint on campus and the community is the most important thing one should aim to do.  
"I just hope people really hold on to the mission at UTEP and remember who we serve," Nuñez said. "I want my students to know 'que no nos falta.' There's no need to feel any less, I think we are very rich in our culture and our bilingual skills, and I just hope that people remember that being a UTEP Miner has a lot of value."
Maria L. Guerrero Duran is the web and copy editor and may be reached at [email protected]; @bymariaguerrero on Twitter and Instagram.