Gabriela Velasquez' long awaited debut of 'Through the Looking Glass'
Gabriela A. Velasquez, a 24-year-old photographer and visual journalist, exhibited her printmaking work, capturing the essence of her life at the borderland area. The reception took place July 7 at the Glass Gallery inside of UTEP's Fox Fine Arts Building. 
After postponing her exhibit for almost two years due to the pandemic and gallery leakage, Velasquez was finally able to present her artwork and culminate her years as a student at UTEP. This gallery gave Velasquez the opportunity to showcase her talent to the community of El Paso.  
"I've been part of exhibitions outside of school, but all of those have just been portraits and they were digital prints," Velasquez said. "So actually showing work that I had to do with my major, which is print making, it made me happy to be able to show that work to people."  
"Through the Looking Glass" captures the development of Velasquez as a photographer, since the prints are a compilation of portraits and photos she has taken throughout the years, including photos taken when at The Prospector, where she was photo editor for 3.5 years.  
The ongoing process of finding her style when it comes to photography started when she attended Eastwood High School. She found her love for photography through her art classes during sophomore year, but it was during her senior year that she discovered how photojournalism could help her tell stories.  
When she first started college, she was a graphic designer student, but decided to switch to print making, seeking a degree plan that had more art and photography involved.  
After almost eight years of shooting and experimentation, she has finally found her style and is able to share stories through her work. She shares that not only do her photos capture what her life is like and who she is, but the location was also a key element for it to make sense. 
"That installation was the main reason why I was so stubborn of having the show in the Glass Gallery. Cause people kept asking me 'why don't you have it in another gallery?' And I'd be like 'no, you don't understand. This has to be here,'" Velasquez said.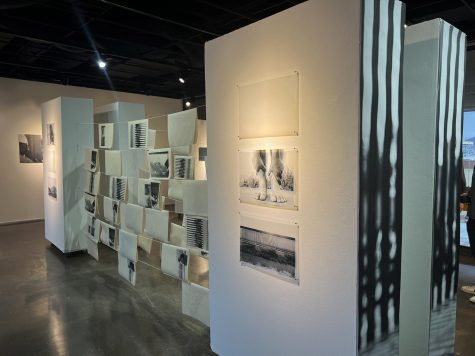 Spectators can submerge themselves in what it is like to be an individual living in the borderland. The center of her exhibit, an installation of prints on newspapers hanging from cords, combines photography, journalism, art, and gives the audience a view of El Paso and Juarez through the looking glass. 
"Because it's glass, that was the whole purpose of the installation; you can see through, just how you can see through the actual wall itself, you can see to the other side. You can see Juarez or El Paso, you can see you are right in the middle. It was just the perfect spot," she said. 
Velasquez reflected on the beauty and painstaking work of print making. No exhibit labels or signs were on display with the purpose of letting the audience appreciate the photos printed on various displays such as glass, photographic metal plates, and newspaper. She said that she wanted the photos to speak for themselves. 
Due to the success of her solo show, the exhibit has been extended for a whole week.  
"Through the Looking Glass" is open to the public from 9 a.m.-5 p.m. until Friday, July 15, at Fox Fine Arts' Glass Gallery. 
You may contact Velasquez at @gabyavelasquez on Instagram or gabyavelasquez.com  
Maria L. Guerrero Duran is the web and copy editor and may be reached at [email protected]; or @bymariaguerrero on Instagram and Twitter.