'The Summer I Turned Pretty' is a summer hit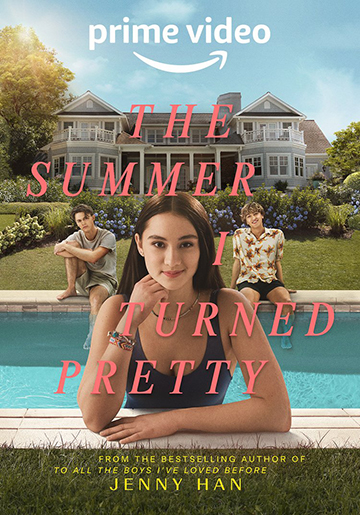 Editor's Note: this review contains no spoilers. 
Amazon Prime decided to turn the young adult trilogy "The Summer I Turned Pretty" by New York Times Best-selling author Jenny Han into a seven-episode series that premiered June 17. The series delivered in more ways than expected and has become a must-watch for anyone that loves a good coming of age romance. 
The show follows a young girl named Isabel Conklin (Lola Tung), nicknamed Belly, and her journey with not only finding herself now that she is growing up, but finding love. For her entire life, she has spent every summer at Cousins Beach with her mother Laurel (Jackie Chung) and brother Steven (Sean Kaufman). But it was not just her family she would spend every summer with, it was also her mother's best friend, Susannah Fisher, (Rachel Blanchard) and Fisher's two sons. 
Belly has been in love with Conrad Fisher (Christopher Briney) for as long as she could remember. And as she returns to her home away from home, she is hoping that those feelings will finally be reciprocated.  
However, upon her return, she learns that winning Conrad over is not going to be as easy as she thought, and she is questioning if he is who her heart truly desires. Suddenly, she is getting attention she is not used to – one of her suitors being Conrad's brother, Jeremiah (Gavin Casalegno). Belly struggles with navigating the ways of growing up and the love triangle in which she is suddenly immersed. 
Despite distractions from a new guy in her life, Cam (David Iacono), her attention cannot help but be drawn to the mystery of Conrad. Throughout the series, you see her struggle with her feelings for these boys to the point that it puts her in tough predicaments.  
Suddenly Belly begins to question everything; has she changed? How much? What do the mixed signals from Conrad mean? What if Conrad is not the summer romance she wanted? Is she making the right decisions? Belly begins to ask herself all the questions most teenagers ask themselves as they navigate their way through life. 
However, the show is not just about Belly and her confusing love life. Other characters in the series can be seen struggling with their own internal battles, keeping secrets, suppressing feelings and trying to decide what is best for those around them. 
Directors Jesse Peretz, Jeff Chan, and Erica Dunton delivered in many ways, but the person behind the soundtrack of this series deserves credit for the success of this show.  
A major part of what made this show so phenomenal were the song choices that made every scene more impactful by including hits from artists like Taylor Swift, Olivia Rodrigo, Billie Eilish, Phoebe Bridgers, and so many more. The song choices for the pivotal scenes throughout the series made viewers feel things in a deeper sense. Even when no words were being said, because of the song selections, many could feel the emotions passing between the characters. 
Belly's coming of age struggles are relatable, and it is what makes the show so captivating. There are different plots running throughout the series that are sure to set up the next season with Conrad set to head off to college soon, an illness in the family, and the question of who Belly will ultimately give her heart to. 
Season one was a hit and fans of the show will be excited to know that season two has already been green lit by Amazon Prime. Overall, this show was a 10/10 because of how it makes you feel every emotion possible and leaves you not only wondering but needing to know what happens next. 
Emily Autumn Velasquez is the editor in chief and may be reached at [email protected]; @emilyautumn20 on Twitter; @byemilyautumn on Instagram.