Buzz Lightyear is back on the big screen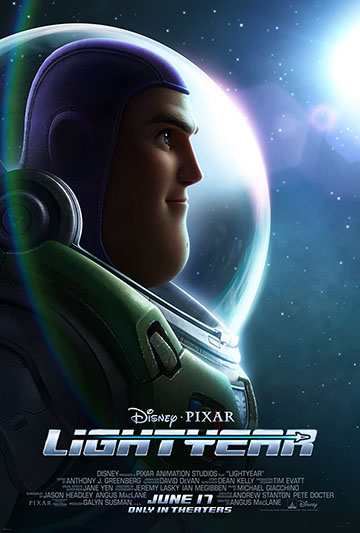 So many people loved him when he was simply a toy on Pixar's Toy Story, but many were skeptical of an origin movie focused on Buzz Lightyear. The stakes were high for this movie due to "Lightyear" being the first Pixar movie to be released exclusively in theaters since COVID-19, but Director Angus MacLane did not disappoint in delivering a movie that went to "infinity and beyond." 
Buzz Lightyear (Chris Evans) is a space ranger faced with a problem that he created and brings it upon himself to solve it alone, regardless of the consequences. So, he embarks on a journey that leaves him faced with not only repeated failure, but loss, grief and guilt.  
After failing his mission, he is gifted a companion by his commanding officer and best friend, Alisha Hawthorne (Uzo Aduba), in the form of a robotic feline named Sox (Peter Sohn). Sox is an unexpected joy as he brings a light to not only Buzz Lightyear, but the movie. The humor he brings to the screen leaves you wanting to find your very own "personal companion robot" to travel everywhere with you. He is there for the ups and downs and is a genius with never-ending knowledge. 
Throughout the movie, Buzz learns that this is not a mission he can complete on his own. Buzz is forced to abandon his selfish ways and is tasked with learning to work with a team to not only complete his mission, but to defeat the arch nemesis we met in Toy Story, Zurg (James Brolin) and his army of robots. 
This new team includes the granddaughter of Alisha, Izzy (Keke Palmer), and her companions Mo (Taika Waititi) and Darby (Dale Soules). The three are a breath of fresh air as Izzy is trying, but struggling to follow in her grandmother's footsteps, Mo is looking for a simple adventure, and Darby is trying to shave some time off her sentence. Regardless of why they are there, they all bring something special to the team. 
Buzz is tasked with not only learning to work with his new team, but to teach them the duties of being a space ranger as they are your stereotypical "rookies." While it is not an easy mission, through their failures we find humor, and through their success we find hope. 
By the end of the movie, you see the friendships and bonds that have been created among Buzz, Sox, Izzy, Darby and Mo. You see the "rookies" turn into space rangers, the five of them become a team, and see them finally prepared for the space adventures that await them. 
This movie makes you laugh, leaves you nostalgic, and includes a couple life lessons by the time it concludes. After three end credits, you are left wondering if this is the last we will see of Lightyear. Overall, this movie is an 8/10, and can be seen exclusively in theaters now. 
Emily Autumn Velasquez is the editor in chief and may be reached at ea[email protected]; @emilyautumn20 on Twitter; @byemilyautumn on Instagram.