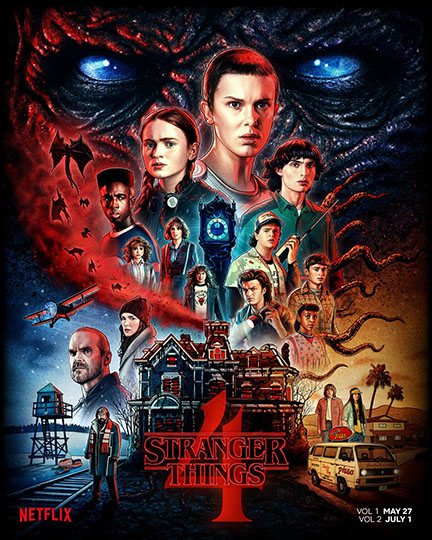 The beginning of the end has started for the Netflix original show "Stranger Things" as the first of two volumes premiered May 27. The highly anticipated show returned after production was pushed back due to COVID-19, which meant standards were high for the return.  
*Spoilers Ahead* 
Season four continues the story of Eleven (Millie Bobby Brown) and her now-gone telekinetic powers, Dustin (Gaten Matarazzo), Will (Noah Schnapp), Mike (Finn Wolfhard), Max (Sadie Sink), Lucas (Caleb McLaughlin), Steve (Joe Keery), Robin (Maya Hawke), Joyce (Winona Ryder), Jonathan (Charlie Heaton), Nancy (Natalia Dyer) and Hopper (David Harbour).  
Each episode is its own roller coaster ride. From episode one you find yourself asking questions and even having your jaw on the floor in the first eight minutes. The twists and turns of each episode create the perfect lead up to the final episode of volume one.  
However, it would not be "Stranger Things" without the humor. From the witty interactions between Dustin and Steve, the newfound friendship between Nancy and Robin, and new characters like Eddie Munson (Joseph Quinn) and Argyle (Eduardo Franco), the humor keeps the show lighthearted even with the unknown looming. 
During the seven episodes, each character faces their own struggles with friendship, love, self-discovery, and of course, the unknown. With higher stakes and dealing with the group being spread across the country and even Russia, this season takes new risks that pay off. 
From the intensity of certain scenes like in episode four when Vecna (Jamie Campbell Bower) takes hold of Max or to Eleven being taken back to Dr. Brenner (Mathew Modine); who we all thought had died back in season one, to be tested on again. Even in the final episode, we discover the identity of Vecna and quite possibly his weakness, Eleven, but it still leaves many unanswered questions.  
With the cliff hangers expected but not wanted, viewers must wait until July 2 for the final two episodes to get any answers including those of "will Nancy survive Vecna's curse?' "Who is going to die next?" "Will Eleven get her powers back?" and "will Eleven be able to defeat Vecna?" Luckily, creators of the show, Matt and Ross Duffer, announced the finale of season four will have a run time of 2 hours and 30 minutes.  
Including the announcement of run time, Netflix released images ahead of the release of volume two, which are sure to answer some burning questions viewers may have. 
Overall, this is the best season to date. From the witty humor to the investigative aspect of the show, it keeps you hooked from the very beginning. With volume two coming in about two weeks, the anticipation is only growing. 
Itzel Giron is the multimedia editor and can be reached at [email protected]; @by.itzel.giron on Instagram; @itzel_anahi_16 on Twitter.