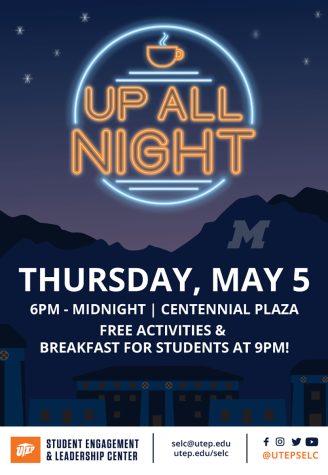 To end the semester with a night full of fun and to de-stress before finals, UTEP's Student Engagement and Leadership Center (SELC) will host 'Up All Night' from 6-11:45 p.m. Thursday, May 5 at Centennial Plaza, Hawthorne Avenue and the surrounding areas.
"It's important that we provide and create opportunities for students to engage (and) feel like they're part of the wider campus community," said Romi Dehler, assistant director of SELC. "I think one of the reasons we schedule it for the time frame that we scheduled for is because it is on the last day of classes, so most classes are done by that point."
Students can enjoy a night filled with free activities, games, free food, and music. The gathering will also feature a late-night breakfast at 9 p.m. and the event will wrap up with a movie on the lawn. The event is open for all UTEP students and welcomes faculty or sponsorships to volunteer.
"That's really our mission as a center, (to) provide those opportunities that really enhance and engage students' experiences," Dehler said. "It's a big collaborative event too, like we are the hosts of the SELC but we have lots of campus partners that are coming (to assist) us (and) be there to show their support for students during this time."
There will be a range of activities and entertainment for the night. During the activities portion of the evening, from 6-9 p.m., students can participate in activities such as crafts, inflatables, and the Air Force band who are going to perform a variety of music. The Air Force band will perform for the first hour from 6-7 p.m., and afterward a DJ will take over and continue playing music for the rest of the night.
A donation drive will also be present at the event and attendees can donate personal care items, backpacks and more. In a couple of weeks, SELC will release a list including all items they will be accepting as donations. Students who decide to donate, will receive a pair of special, bright orange glow sunglasses.
"It's definitely one of those experiences that is created to really bring the campus together, (to) really create a community (with) really engaged students in meaningful way," Dehler said. "(SELC has) been doing this now for a good number of years and so, it's something that the campus likes to engage with. I mean it's something that we've been able to continue (and) actually do every semester, so we're really excited for this this semester's version to take place."
Elisha Nunez is a contributor and may be reached at email [email protected]