UTEP's Student Engagement & Leadership Center (SELC) hosted the 21st Century Southwest Leadership Experience Conference April 22-23 in the Undergraduate Learning Center on the UTEP campus. The conference had many different types of breakout sessions for students to attend and lots of fun activities in which to participate. There were various inspirational speakers, including keynote speakers Laurie Hernandez and Richard Montañez.
The last time the conference was held it was strictly online due to the pandemic. Members of SELC were eager for the conference to return in person this year and to see students develop their leadership skills.
"SELC is hosting this event to provide a leadership experience for students," said Daisy Marquez leadership, inclusion, and advocacy coordinator at SELC. "A lot of our population who signed up for this event had never been to a conference. This is an excellent opportunity for students to learn how to navigate a conference."
Other topics the breakout sessions covered included money saving strategies, mental health and holistic wellbeing, combating imposter syndrome, career planning, enriching your college experience, belonging, life after UTEP, first-generation students, faculty and staff stories, reclaiming your education, intentional communication, and leadership amongst many more topics.
"I had the great honor and opportunity to be a part of the committee that put this conference together," said SELC intern Andrea Nuñez.
"I got to work with many UTEP directors, working this event has been an incredible experience. We have a lot of students and professors here presenting on issues such as financial stability, mental health, and imposters syndrome which is a huge thing especially for a lot of us first-generation students. I'm especially looking forward to listening to the awesome keynote speakers."
The keynote speaker for Friday evening was Olympic gold in gymnastics, Laurie Hernandez. She was the winner of "Dancing with the Stars" season 23 mirror ball trophy. She is also a New York Times best-selling author with her first book, "I Got This: To Gold and Beyond." Her presentation involved following your dreams and embracing who you are.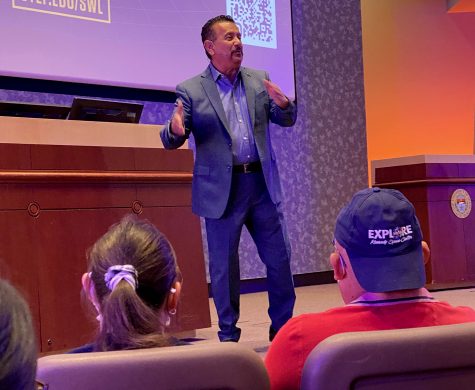 Richard Montañez was the keynote speaker for Saturday. Before he retired, he led multicultural sales and marketing as vice president of all Pepsi North American divisions for 42 years.
"I like taking opportunities to increase my leadership skills," said UTEP multidisciplinary studies major Matthew Crawford. "I've learned so much already and I've only been to two breaks out sessions. I really enjoyed learning about the miner ambassador program, I didn't know it existed before going to the presentation."
Continental breakfast, lunch, and dinner were provided to attendees and presenters. Students got to enjoy having dinner on Friday night with keynote speaker Laurie Hernandez. President Heather Wilson joined in on the fun and joined students for lunch and activities during Saturday's events.
For many breakout session presenters who were students, this was the first time they were speaking at a conference. But they did not let their nerves get in the way of them spreading their knowledge to conference attendees.
"I thought this was a unique opportunity that the miner ambassa-dor program provided that I had to jump on," said Brooke Dorsey, one of the presenters for "The Miner Ambassador Experience: Creating Future Leaders" presentation. "There aren't many opportunities in the program where you get to be the star of the show. This was my first time attending the leadership conference and I didn't even know about this event before. Now that I'm here and looking at all of the amazing people and the effort put into it, it's quite incredible."
To learn more about SELC, visit www.utep.edu/studentaffairs/selc MineTracker ww.utep.edu/student-affairs/selc/ a list of events hosted by SELC may be found on MineTracker at minetracker.utep.edu/organization/selc
Alyson Rodriguez is a contributor and may be reached at [email protected]; @alyson_rod1127 on Twitter