Every year, UTEP students are presented as The Top Ten Seniors –10 graduating or recently graduated seniors who are not only academic achievers, but have a combination of leadership, involvement, and service in both their community and on the UTEP campus, according to the UTEP Alumni Association website.
For 2022 the Alumni Association picked 10 seniors who fulfill the requirements of being a Top Ten Senior but exceed the expectations. Ranging from all majors and different colleges, UTEP's 2022 Top Ten Seniors are: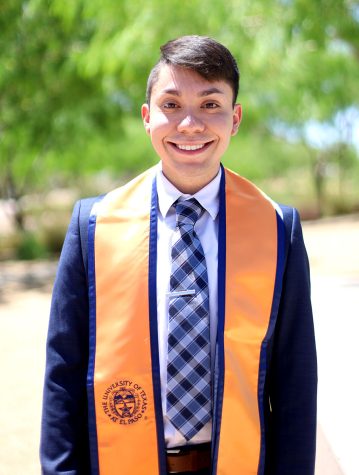 Adam Campos
Students are always encouraged to push themselves in multiple aspects, from community service to involvement in student events, Adam Campos has redefined the word service to his own terms. His involvement in the Medical Professions Organization, the PrePharmacy Organization, the Texas Tech Double T Medical Honor Society and even assisting UTEP in their rollout of COVID-19 vaccines, Campos has always lent a helping hand.
Like each student at UTEP, every college experience is different in a multitude of ways, but for Campos service is the one word he would use to describe his time here.
"I would say service. Throughout, I have always been passionate about volunteering and giving back to the community and giving back to those who need it most," Campos said.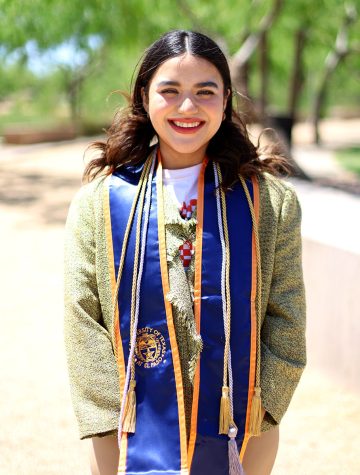 Anahy Yoselin Diaz
Arriving at UTEP as a prestigious Terry Scholar, Anahy Diaz has become a leader not only on campus but at The Prospector. From being editor-in-chief to recently being multimedia editor, Diaz has made an impact on not just UTEP but many students. Her hard work and dedication have not only been highlighted in her work but displayed in her acceptance into the NBC Page Program in New York City.
"Being a top 10 senior means not only representing UTEP and the values that it's taught me like compassion and hard work, but it's also a celebration of my hard work these past four years," Diaz said. "It's also the dedication and support of my parents and family and especially the mentors I have met here at UTEP."
Camille Ariana Garcia
A native of Puerto Rico who moved to El Paso when she was a young girl, Camille Ariana Garcia said the city's welcoming community spirit was also felt at UTEP. When COVID-19 hit the region, she became part of a strong Miner community that met the challenges of the time, especially as a premedical student.
With the pandemic as a backdrop, Garcia co-founded the Minority Association of Premedical Students, or MAPS, which provides professional development opportunities for aspiring medical students. She was motivated to excel in rigorous STEM courses and balance commitments, including her role as a general chemistry peer leader. She hopes to one day join the medical field and serve the health care needs of underserved communities.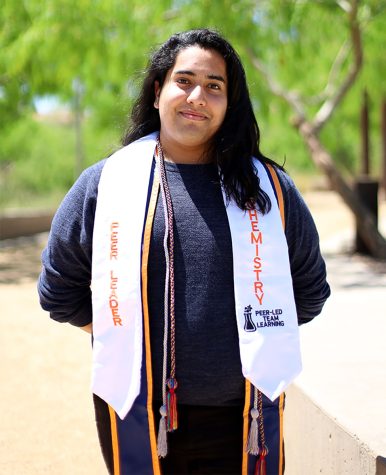 Jordan Seth Dominguez
First receiving the Terry Scholarship four years ago, Jordan Dominguez has spent his years at UTEP working hard to reach this moment. Dominguez has not only been on the Dean's List every semester but has been awarded the Houston Endowment Leadership Scholarship.
"I've worked really hard throughout my four years here and I think it's kind of something that puts a cherry on top of all my work," Domiguez said. "It summarizes everything I try to do to make change here at UTEP."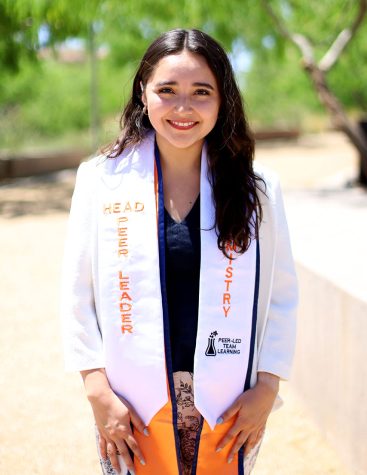 Paola Garcia Hernandez
Every college experience is different for every student, whether it be good or bad, it is up to the student to take the experience and mold it to push them further than they believe. For Paola Hernandez, sometimes the toughest battles a student can face are the ones at home.
"Throughout my entire college career my dad has been battling cancer," Hernandez said. "(It is what) got me into medical school but also the biggest challenge. Having to see him go through that because he's always been my number one motivator."
Destiny Alejandra Rodriguez de San Miguel
Starting as a biliteracy tutor in her second semester, Destiny credits this job for building her communication and leadership skills. Those valuable attributes helped her not only secure the prestigious Gilman scholarship, Honors Houston Endowment scholarship, but the Houston Professional and Leadership Development scholarship.
After returning from a semester abroad in France, Rodriguez immersed herself in student organizations relating to her accounting and finance majors, which helped her take part in four internships, including a summer analyst position at J.P. Morgan in New York. She built on this momentum, returning to UTEP for her final year to co-found the Finance and Investment Club, a new student organization intended to prepare students to secure positions on Wall Street.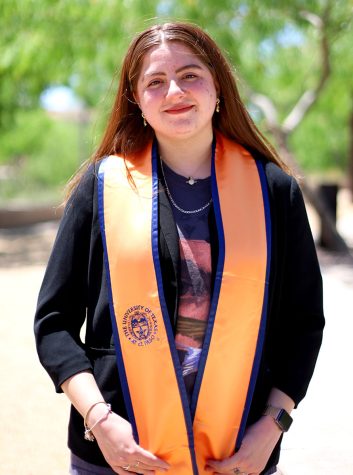 Andrea Cecilia Herrera Aguirre
Like many here on campus, Andrea Aguirre is an international student who travels from Juárez to come to school. As an honors student, Aguirre graduated Summa Cum Laude from her undergraduate degree in English and American literature.
"Since I started UTEP, I have gone to commencement ceremonies and I saw the top 10 seniors of that time; I didn't even know what that was but once I saw the big honor, I just wondered what it would be like to be me," Aguirre said. "Now that it's actually me it feels very surreal, and it means a lot, especially people that have graduated to recognize something in me that they've seen in so many other special individuals."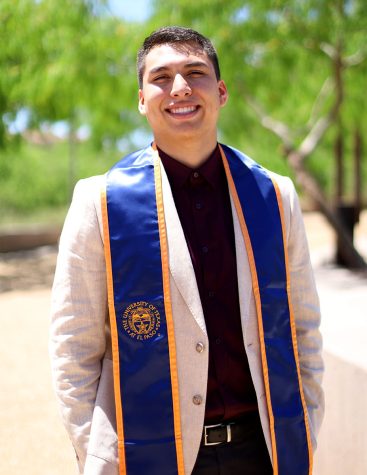 Maximo Sebastian Gamez
As a first-generation student Maximo Gamez quickly fueled himself from the very beginning to become something bigger. Joining a local startup, Gamez hopes to make entrepreneurship opportunities more attainable to aspiring Hispanic innovators in the region.
"You're provided with all the help and mentorship to make change (here at UTEP)," Gamez said. "Make something of what you see around you, build something out of nothing and help others in the process."
Sophia Anastasia Andritsos
The path to a career in law for Sophia Andritsos started at UTEP, where she said her peers motivated her to work harder. UTEP's Law School Preparation Institute provided Andritsos with opportunities for on-campus activities and competitive internships that have helped lay the groundwork for her career preparation.
From spearheading initiatives to encouraging voter registration efforts on campus to landing her dream internship at the Department of Justice in Washington, D.C., through the prestigious Archer Fellowship Program, Andritsos' time at UTEP has prepared her to pursue her goal of becoming a civil rights attorney advocating for women's access to equal rights and equal pay.
Kaelin Li Walker
Despite the challenging academic environment of a global pandemic, Kaelin Li Walker utilized and built her communication skills as she worked as a UNIV 1301 peer leader, guiding students as they took on new challenges. While studying dance as well as women's and gender studies, the honors student was a Student Government Association Senator at Large, a Houston Endowment Scholar, and was recognized by the Student Engagement Leadership Center with the Distinguished Leader Award.
Walker's academic path also helped her gain leadership skills and convey complex ideas through dance. She grew as a leader directing a team for her capstone dance production, which focused on the role of gender and race in society. She hopes to continue raising awareness of important issues and grow as an advocate.
Information provided with the help of The UTEP Alumni Association website.
Itzel Giron is the audience engagement editor and may be reached at [email protected]; @by.itzel.giron on Instagram; @itzel_anahi_16 on Twitter.