Imperial Legacy leaves its mark on fashion
Faith and Marcus Smith are a sibling duo conquering the fashion world together. From New York Fashion Week to LA Fashion Week, the Smith siblings created Imperial Legacy together to show fashion has no limit.
Imperial Legacy was created in 2012, but Marcus Smith explained the idea of creating a clothing line dates back to 1995. He explains how while at work 11 years ago, he drew a design, and one of his coworkers came up to him and said he should put it on a T-shirt, so he went and told his sister, Faith, that they should focus on creating a fashion business.
"Fashion has always been my thing, but as far as actually putting forth the effort to make everything happen, it was in 2012, and we just kept moving from there," Marcus said.
Faith said they displayed their fashion at Glasbox in Downtown El Paso. The two have found a great balance within each other to where if one of them needs help with something, the other will be there to help. Faith handles the business side of Imperial Legacy, and Marcus handles the design side of it, but they dabble in both areas. They both also balance Imperial Legacy with their other jobs, Faith is a teacher at Andress High School, and Marcus works at a mental health case management firm.
"I had a sketchbook back then drawing stuff up for potential clothing company that never actually at that time came into fruition," Marcus said.
They explain having their own fashion label has always been something they wanted to do and their influences and inspirations come from their mother, father and aunt.
"Everything we're doing is like building on the legacy that we were given," Marcus said.
Their mother was always supportive, their aunt was the one who got Marcus into fashion by taking him to clothing stores and showing him which colors work best. Their father was a woodworker and showed them how to create, and they integrated that into the items they design.
"That's what always motivates us is knowing that we want to give our dad the world and knowing that our mom and our aunt are looking down on us. We just want to make them proud," Faith said.
When it comes to defining fashion, the Smith siblings explain fashion is whatever makes you feel comfortable and confident.
"I feel fashion is you; however, you feel your most confident, your most beautiful, your best self, that's fashion to me," Faith said.
Imperial Legacy offers different options for everyone. It released their "Cruella" collection in December 2021, and Faith explains it is an all black and white collection customers can shop for when they are looking for something more subtle.
They do everything from shoes, including heels and flip-flops, outerwear, jewelry, hats, and tote bags because they want to be able to dress their customers from head to toe. When designing shoes, Marcus goes by the alias "Sucram Oirbok."
"Everything is a piece of walking art – not just fashion. It's more than fashion," Marcus said. "So, if you wear Imperial Legacy it's because you want to be heard without saying anything, and that's what it is."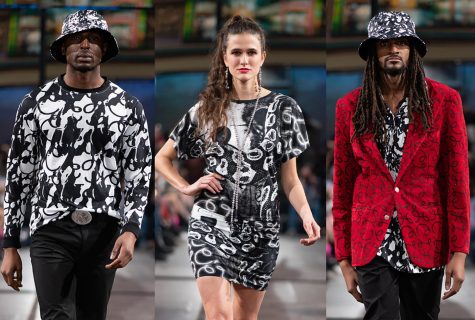 Imperial Legacy showcased their work at New York Fashion Week in February. Faith explained that she conducted a lot of research during the pandemic and found the Council of Fashion Designers of America opened its platform for emerging designers to join Fashion week. They went through five onboarding sessions to be considered. These days, they get asked to showcase their work.
"There's a lot of requirements and stipulations," Faith said. "Now we're at the point where we don't have to apply anymore."
The Smith siblings' goals are to be internationally known and sold globally the way Versace, Guess and Gucci are. They also want to uplift the community and show children that they can be whatever they want to be.
"I have a career as a teacher, but I have a whole second business that is flourishing," Faith said. "Being able to know that you can be whatever you want to be, we're examples of that."
"I want to project to these children here and for the youth here in general that it doesn't matter where you start, where you come from, stick to it, and you can make it happen," Marcus said.
The advice Faith and Marcus would give aspiring fashion designers would be to listen to your heart, do not let the setbacks stop you, and put in the work for what you want to achieve.
"It's not candies, pink balloons and unicorns. Some days really suck, but it doesn't matter. This is what you want to do; focus and make it happen," Marcus said. "It can happen, it will happen, but you have to put forth the effort."
Katrina Villarreal is a staff reporter and may be reached at [email protected].