The Americans with Disability Act, or ADA, limits was passed in 1990. It is a civil rights law that prohibits discrimination based on disability. Because of this law, people with disabilities can now acquire extra services to help them at work and at school.
UTEP has many offices that offer help to students with disabilities. These offices include the Center for Accommodations and Support Services (CASS), the Equal Opportunity Office (EOO), and the recently created ADA advisory committee.
According to the CASS website, it provides students with disabilities accommodations and support services to help them pursue academic, graduation, and career goals. The Equal Opportunity Office is committed to providing equal opportunity to all employees and individuals seeking employment or access to its programs, facilities or services, and will not discriminate against persons because of race, color, national origin, sex, religion, age, genetic information, veteran's status, sexual orientation, gender identity and disability. The new ADA advisory committee meets once a month to discuss accommodation needs on campus.
"For students who are blind or have a visual disability, we can provide accommodations such as alternative formats like audiobooks, more time for taking exams and doing assignments, a reader scribe, note taker, and early registration to make sure they have classes in accessible buildings," said Manelic Alcala who is the disability services coordinator at CASS. "These accommodations are some of the most common for visually impaired students."
UTEP master's in leadership studies student Almicar Marquez has been visually impaired since he was 21 years old. He was involved in a shooting incident which caused him to lose sight in both of his eyes. But he did not let his loss of sight stop him from pursuing his dreams of being a pastor and getting his degree in his late 60s.
Acquiring his degree at UTEP has not been an easy journey. The greatest challenge that he faces at UTEP is many people can't see past his disability, he said. They are stifled by his disability and focus on what he doesn't have instead of what he can offer. Marquez said he has endured many experiences like this at UTEP.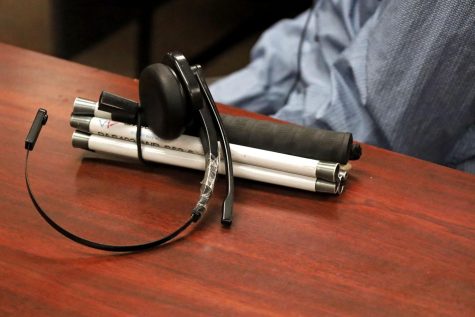 To provide for his wife and two small children, Marquez has applied to different work study positions at UTEP, but says he was not given a fair chance because all the interviewers focused on his innability to see and not all the skills that he has.
"My need for employment is impossible. People's perspective of a blind person is very limited. No one knows how to help because there's nothing in the book," Marquez said.
One of the positions that he applied for was a janitorial position in the dorm rooms. While he was explaining to the interviewer all the attributes that he could bring to the position, the interviewer asked how he'd manage broken glass? Marquez responded that he would just simply pick it up.
"I have picked up plenty of broken glass and have not cut myself," he said. "The ignorance of the sighted person does not know the capacity of what the blind individual can do is discrimination to a certain extent."
Marquez later applied for a work study position, the interviewer then asked him, "you do know that you will have to make copies on a copier."
"In other words, you are blind, so you are not qualified to do this work," Marquez said. "That is discrimination because if I have the knowledge which I proved to her, her next response should have been if you are hired and because you cannot see, we will make accommodations for some things that you will need assistance with ."
Marquez has also faced obstacles in the classroom and is currently facing the challenge of not graduating with his master's degree due to him not being able to acquire a teacher's aide position, which is a requirement to graduate.
"I am about to complete my master's and I need to be a teacher's aide in order to graduate," he said. "I asked everyone around and even emailed my advisor. It fell on deaf ears. I even told people that I am willing to volunteer but there were no takers. I would like to prove that I am capable of doing the job, I just cannot find support here at UTEP."
CASS has many plans on how to help visually impaired individuals at UTEP. It plans to collaborate with more UTEP faculty to help make materials more accessible to blind students. CASS also wants its whole staff to be trained in how to use more assisted technology such as JAWS, which is a screen reader.
"Always ask visually impaired individuals how you can help them, don't assume what they need. If you ever see an obstacle in a pathway on campus notify CASS and we'll ask facilities to take care of it," Alcala said.
Marquez said UTEP has a lot of work to do to help the visually impaired.
"These situations that I have experienced and endured have broken my heart," Marquez said. "I am normal just like you. I look for fairness and the opportunity to prove myself. There are many things that need to be corrected in this school. My heart goes out to the next blind individuals that come here to UTEP. Hopefully, they will not leave with a broken heart."
To find out information on CASS visit their website at www.utep.edu/student-affairs/cass.
Alyson Rodriguez is a contributor and may be reached at [email protected]; @alyson_rod1127 on Twitter