Anadeli Bencomo named Dean for College of Liberal Arts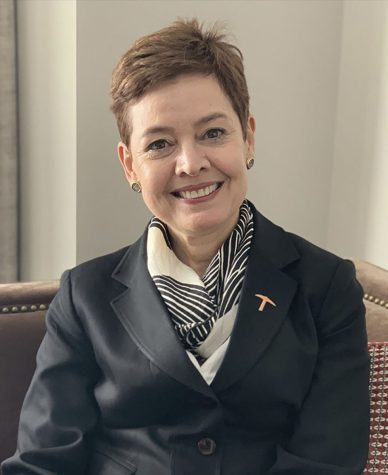 UTEP names Anadeli Bencomo, Ph.D., as the new dean for the College of Liberal Arts. Bencomo is scheduled to begin the position June 1.  
Bencomo, a Venezuelan native, is coming to UTEP from the University of Houston, where she has served for 22 years. Starting as an assistant professor, Bencomo has served as an associate dean for faculty and research in the College of Liberal Arts and Social Sciences, a chair for the Department of Hispanic Studies for two terms, and director of Spanish Graduate Studies, according to UTEP Marketing and Communications.  
In 2011, Bencomo received the Teaching Excellence Award at the University of Houston, which is awarded to one teacher a year. 
"That is one of the pinnacles, I think, of my career. Because you know, I am, at heart, an educator. I love teaching and I do research, but I always bring the research to the classroom," said Bencomo. 
UTEP Provost and Vice President of Academic Affairs John Wiebe had a lot of praise for Bencomo.  
"Anadeli Bencomo has excellent credentials. She is a superb scholar, educator, researcher and author, and her years of progressive experience in administration prepare her well to lead the college in integrating its student success mission with a focus on building its research and creative profile," he said.  
With her new position, Bencomo will oversee 25 departments and programs with a total of almost 6,600 students. The College of Liberal Arts is the largest college at UTEP, and home to social and behavioral sciences, the humanities, and visual and performing arts. 
"I think, by teaching creativity and critical thinking, we are helping our students to become better professionals," Bencomo said about the importance of liberal arts programs.  
Bencomo attended the University of Pittsburgh, earning her degree in Latin American Literature. Once she completed her degree, she applied to various schools for employment, three of which were in the state of Texas, she said.   
"What attracted me to UH, that is also the reason that I am going to UTEP, is the fact that it was a Hispanic-serving institution," Bencomo said, adding that a Hispanic-serving institution was one thing that was non-negotiable for her.  
Bencomo said that she was drawn to UTEP because of how student-centered the university is and how the university is student-centered. She said she considers herself a team player. 
"From day one, I am planning to be a consistent advocate of our commitment to enrich the college experience of UTEP students, to engage with the community of El Paso-Juárez, and to model the creativity and critical thinking demanded to thrive as professionals," Bencomo said. 
Denis O' Hearn, Ph.D., and current dean for the College of Liberal Arts, took the position in July 2018. He plans to rejoin the faculty and continue his research on the Indigenous Unangan people in the Aleutian and Pribilof islands, according to UTEP Marking and Communications. 
Kristen Scheaffer is a staff reporter and can be reached at [email protected]