The play "Cenicienta," directed by Adriana Dominguez, Ph.D., assistant theatre professor and director of theatre programs at the Department of Theatre & Dance at UTEP, won Director's Choice/Best Production award at the virtual Kennedy Center American College Theatre Festival (KCACTF) from Feb. 25-27, 2022. 
"Cenicienta," written by Caroline Reck and Rupert Reyes, is a bilingual retelling of "Cinderella." It is about a girl named Belinda who is locked in the basement preparing for a party that her family is throwing, but she is not invited. While she is prepping, she creates a world with the items around her, and they come to life, such as Ernesto and Gustavo who are lamps. During the play, the audience finds out she lost her parents. She loves to write poetry and her favorite poet Gary Soto will attend the party, so she creates Cenicienta out of napkins and gets her Hada Madrina (fairy godmother).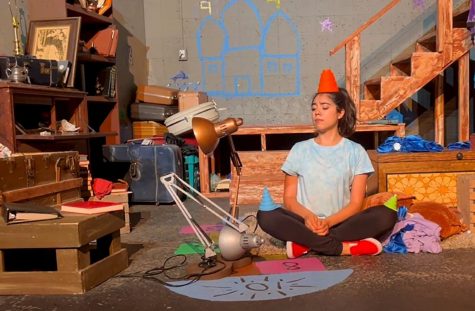 "It's about creating empowerment and appreciation for language and culture," Dominguez said. "At the end, "Cenicienta" does have the courage to go up the stairs and join the party so she can meet Gary Soto and show him her poetry." 
Dominguez explains that she had the privilege to see "Cenicienta" in Austin, Texas at the Latinx Theater Commons pre-pandemic. What motivated Dominguez to direct "Cenicienta" and want to bring it to UTEP was that a lot of her work focuses on underrepresented groups or groups excluded from the performing arts.  
"As a woman and as a woman of color, we don't get to see our stories ever, and so usually the work that I do is going to be about groups that don't always have a voice," Dominguez said. "I am a mom. I have a little one who does not get a lot of arts programming at school and so it is like how can we make that better. So, it was fulfilling a lot of personal, but then also a lot of community access needs as well." 
In terms of production, Dominguez, and her team, which consisted of all UTEP students, set a goal to have the play done by August 2021 while still being cautious.  
Dominguez explains that they did three online rehearsals during the summer, met once a month, and at the end of July, they got together to conduct in-person rehearsals and filmed the play. After the play was filmed, they got together one last time to finalize the website.  
"We don't have a long rehearsal process, and it was also magical. I had a wonderful team who stuck with me," Dominguez said. "I had an assistant director who was a student, our stage manager was a student, our actress was a student, sound, lights, set, props, costumes, it was all student done and so that was fantastic." 
Dominguez explains that winning the award reinforces the fact that UTEP has a strong theatre program, and for her, it was important because they did great work with tenants of access and representation.  
"We have hard-working students, and I think because everyone involved in it was a student, I think it really highlights that," Dominguez said. "We're making sure that other people can access the arts, and we are doing that through a lens of empowerment, and that is a win. Even if we did not get any other awards just doing that, that is a win right there." 
"Cenicienta" has already wrapped, but Dominguez said they are trying to keep the website alive for a bit longer.  
The play is currently eligible for national awards, which means the National Committee of the Kennedy Center American College Theatre Festival has viewed the play, and come May, it will be eligible for more awards. 
"We're also eligible for national awards which is huge because again we're going up against, work that's done all over the United States," Dominguez said.  
Dominguez is currently working on her next show, "Then Came Tango," based on the book "And Tango Makes Three." She explains that they will be performing the show at three local libraries, the El Paso Zoo and the Borderland Rainbow Center.  
"That's what I'm working on right now we're just starting the rehearsal process," Dominguez said. "I'm really excited about that one because again, it's another opportunity to provide access because it's free. Just another shoutout to the students. They are incredibly hard-working. I think sometimes we do not realize how much work it takes; they do their jobs, they do their classes and then there (are) hours of rehearsal afterwards. I think we should honor that." 
Katrina Villarreal is a staff reporter and may be reached at [email protected].