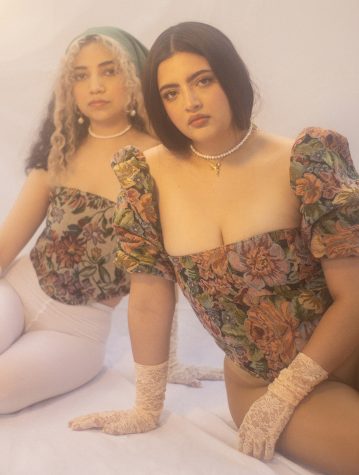 Alba Garcia was born in Ciudad Juárez, and graduated from UTEP more than a year ago before traveling in search for the perfect city that suited her talent and desires.
After accepting a job in New York, she did not originally plan on starting a clothing brand that incorporates her experience in the border and her family. But life took on a plan of its own.
"I'm so proud of growing up on the border. It's something that I really want to keep with me, that essence of me in the brand," Garcia said.
As a freelance photographer who also works in e-commerce, Garcia has come a long way since graduating from UTEP, but that was not always the case.
During and after graduation, Garcia took the opportunity to travel and try and search for a city she liked. From Monterrey to Mexico City, Garcia lived on the move until she received a job offer in New York, which she decided to take.
Settling in and getting used to the city was something she enjoyed, which led to her decision to remain in New York for a couple of years. It
was in New York that she, unexpectedly, founded her business.
"I guess I always [liked] fashion, kind of like doing my own stuff. I also wanted to be a fashion designer when I was little, but I don't know how, it never got my attention [as I got older], but I knew that I wanted to learn about it," said Garcia, recounting the experiences that assisted her with launching her brand.
Garcia took a semester off during college and lived in Monterrey, where her grandma taught her to sew. She learned to sew with her mom's machine, but since her grandma had no patience for teaching, she said, she took some sewing classes.
The founding of her clothing brand, "Mariana," was not planned in advance. During the Covid-19 pandemic, Garcia spontaneously decided to start making clothes. Before, Garcia only used her sewing skills to fix clothes and make some pieces for herself. With the pandemic came a pause in life, but also a new idea. It was there that Garcia decided to begin selling handmade pieces simply because she could.
"I guess I really wanted to do it because I literally wasn't doing anything," said Garcia. "I was living with my parents [and] I had a lot of free time, so I started the brand. I started only taking orders from my close friends, then I started the whole brand and taking orders from other people and treating it like a business. That was the start of it, when there was the pandemic."
Garcia focuses intently on each order she receives. She never starts a piece with prefabricated leftovers and always starts her clothing orders from scratch to ensure that there are no leftovers of fabric. Not only that, but the process includes trying out numerous samples in order to find out what fabrics work. Although the process is tedious, Garcia explained how the experience is always worthwhile.
"It is worth it in the sense that, for me, a friend out of nowhere will wear one of my pieces. It's so rewarding and it's not about money; it's about the support I feel when people are wearing them," Garcia said.
Not only does she make sure to work hard on these pieces, she is sure to infuse some of her influences into her clothing and brand. The brand's name, Mariana, is Garcia's second name.
Some of the pieces from the brand are even named after the women in her life that have impacted her, such as her grandmother and mother. As Garcia progresses to make a bigger impact on her brand by including some elements of her personal life, she also has some big plans for the brand's future.
"I just got to New York, so the first thing for me is to settle in and just set up my machine [for the] fabric and to start sourcing where I can buy the fabric. I [also want to] start producing and start creating and [getting into] e-commerce, just like setting up everything online just so that I can get more people," said Garcia. "I've always been interested in performance art, so like having a bubble shop and having collaborations with different artists [are] on my mind."
To see the pieces made by Garcia, or would like to order one, visit their business's Instagram @marianabyalba.
Elisha Nunez is a contributor and may be reached at  [email protected].