Art is often defined as the expression or application of human creative skill and imagination, typically in a visual form such as painting or sculpture. For Jacqueline Vigil, 27, creator of Muchas Flores Studio, art means being able to spread self-love and positivity through her clothing and sticker brand.
From a young age, Vigil loved art. It was that love that led the El Pasoan to attend El Paso Community College, where she pursued a degree in graphic design and later inspired her to move to Los Angeles, where she graduated from Otis College of Art and Design in May 2020.
"My first thought was 'graphic design is logos, business.' But I mean, after going to school for the years I did graphic design is so much more than that," Vigil said. "It's design and art that's functional. And it can translate to so many different mediums, which is amazing."
While in Los Angeles, Vigil collaborated with fellow students to sell self-made products at local markets. Vigil recalls not making much money during the first market, however, it was that same $12 she made that day that later inspired her to create Muchas Flores Studio.
"I was like, 'I could make a living off of this?" Vigil said. "That's when I was like, I want to start my own brand, where I can make designs that are positive and colorful."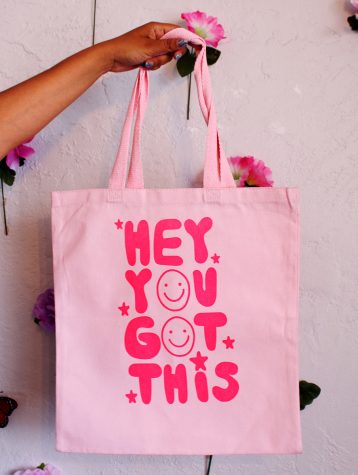 Muchas Flores Studio sells an array of stickers, tote bags, apparel, and keychains, all with positive phrases or images like "let yourself bloom," "I will allow myself to flourish," "you've always been enough," and "trust your intuition."
"I wanted to use my design platform for something positive," Vigil said. "I think mental health is very important, and self-love. So that's where a lot of my inspiration for my quotes and designs come from. And sometimes these are messages that I tell myself."
Vigil's designs also include graphics inspired by the Sun City, such as cactus keychains and stickers with the words El Paso written on them. The process of these creations starts through Vigil's own imagination and creativity as she is inspired by the color palettes she creates on her computer.
"Then I pick a font I like and play around with the design. Then from there, I can pretty much just make stickers right away," Vigil said. "I print them, laminate them, my Cricut cuts them, and then I just package them. And for the tote bags, I screen print them on my kitchen table."
Muchas Flores Studio houses its products at Love Alumni Boutique, alongside other small businesses. This business move, and its participation at local markets like the El Paso Art and Farmers Market and the Upper Valley Market, has led Vigil to personally connect with her customers.
"I really do love going to in-person markets because I get to see my customers and their reactions," Vigil said. "I always love when I am in person and a customer will be like, 'oh, I gave this to my sister, and it really brightened her day.' Or they'll be like, 'do you have anything new?' So it's nice to see regulars too, or people who have seen me on social media."
Vigil hopes to continue offering new products to these customers by creating stationery items in the near future, like planners and notepads, with her continued message of spreading positivity.
"Of course, it's so easy to say 'love yourself more,' but what else can I do to help people even start that journey?" Vigil said. "There's no right or wrong way of a self-love journey, so I think I would want to sell maybe a nice notebook or stationery item where people could reflect and start that self-love and healing journey."
Although the process of single handedly creating, packaging, selling, and promoting one's business may be overwhelming, Vigil credits her hard work to those who support her. This includes her grandparents, whose last name 'Flores' inspired Vigil's business name.
"The name Muchas Flores Studio actually is dedicated to my grandparents, because they've always been my biggest support system. They still are," Vigil said. "Having the support from them and my parents, my family and friends has been awesome. That's what keeps me going."
Although Muchas Flores Studio has been around since May 2020, this is only the beginning for Vigil, as she hopes to introduce her products to markets outside of El Paso. She hopes to apply to markets in Los Angeles and sell her products in more boutiques and retail spaces.
"I don't want to use my talent to be slaving away at a computer making someone else's dream come true," Vigil said. "I'd rather put all that time and effort into making my dreams come true. And I hope along the way, I can help others."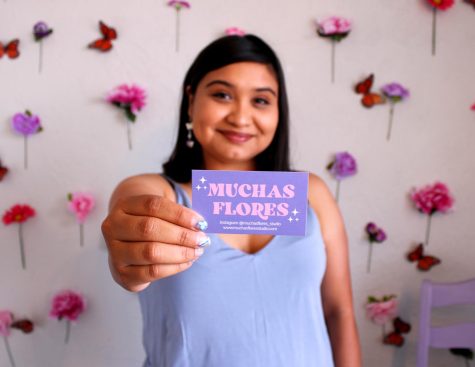 For information on how to purchase Muchas Flores Studio items or view its market participation schedule, one can visit its Instagram @muchasflores_studio.
Anahy Diaz is the multimedia editor and may be reached at [email protected]; @by_anahydiaz on Twitter.