Drag queens have been a part of the fashion world for years, according to PAPER MAGAZINE, From the extravagant looks to  unique stylings, the art of drag has influenced what people wear today and will continue to do so for years to come. Though many drag queens influence fashion, the clothes these performers wear are often limited or exceed a certain budget. But for drag queen Rosita Thorne or David Ortega, the show must go on.
Ortega has taken the matter into his own hands by creating Rosita's costumes, which come to life on stage as she performs three-to-five-minute songs at El Paso's Touch Bar.  The Prospector sat down with Ortega to talk about his process and inspiration for creating his own drag queen costumes:
Question: What do you do as a nightlife performer?
Answer: I am a nightlife performer, otherwise known as a drag queen. So basically, what I do is I take all the creative parts that are inside me and while playing with gender, and of course makeup, hair and costumes is get to express that to a multitude of people.
Q: The world of drag is obviously big on color, fashion and art; what pulled you into that world?
A:  I was always into performing. In middle school, I was in theatre, in high school, I was in band and color guard geek who still did theatre and then choir, so I think that creative side always needed an outlet for me. But, more so, the world of drag was introduced to me with RuPaul's Drag Race. I can vividly say I remember watching season nine for the first time and being really enamored by all these beautiful queens.
Q: What made you want to create your own costumes?
A: Truthfully, it was out of necessity, I am a bigger queen, and sometimes it is hard to find plus size clothing, let alone costumes that will not only look good and flatter me but fit. So, it was more out of necessity to find clothes that would fit me, so of course, I thought if I can make the clothes, I can make them fit me. From there, the creativity took over, and it just became more of an outlet to say, 'If I want to make something, I'm going to make it happen and I can make it all myself.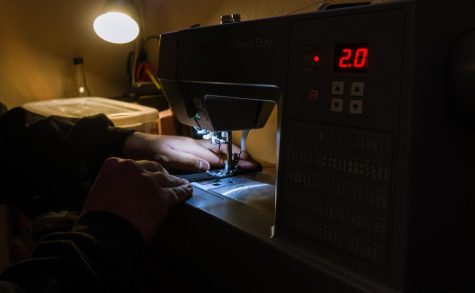 Q: Did you know how to sew before this? Or was it more of "I need costumes, so I'm going to learn how to sew?"
A: I originally went to college as a theatre major, so I was really involved in the costume department, and I learned how to use the machine. That is about it. Costume wise is basically all the learning process. I am self-taught. So, everything that I make is more of a trial and error.
Q: What has been the biggest hurdle you've had to go through when creating your costumes?
A: I would probably have to say finances. Although again, it is a lot easier to just buy a costume and whatnot. Sometimes it is more expensive. And on the flip side, making your own clothes. Sometimes details such as rhinestones, glue, and the fabric itself can be a little bit pricey. So, I think that was one of the biggest hurdles I had to overcome when I first started. But now it is a good thing. I know how to source most of those things.
Q: Can you tell us of a time you noticed you were spending too much money on one costume?
A: I had recently competed last year for a newcomer pageant, which is a pageant for newcomer drag queens. And I think one of my more expensive costumes easily costs into the 1000s. So that's probably one of the biggest eye openers of oh my goodness, this is a little bit expensive.
Q: Who is your fashion inspiration? 
A: That's almost like asking to pick a favorite child. But  there's a couple of course, drag queen wise. I look up to Kim Chi, Aquaria, Bob the drag queen, Bianca (Del Rio). Those are some of my overall just inspirations in drag, just because they have such a wide variety of fashion tastes as well as aesthetics. I lean towards vintage aesthetics. So, I love Terry Mugler, Tom Ford, Moschino. I really just take inspiration from all over.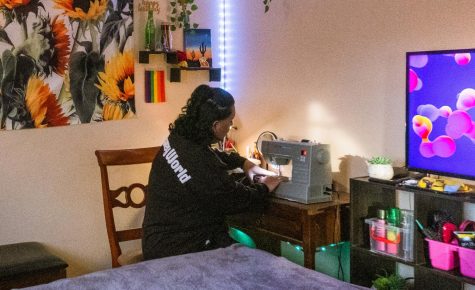 Q: What has been your biggest lesson while performing with the other queens at Touch Bar?
A: The thing that I cherish most from Touch Bar is that they have taught me to believe in myself, and to always do things purposefully, and do them as confidently as possible. And I only reiterate that because sometimes in life, when you're scared to do things, they never turn out right for you. But so long as you have that confidence, and so long as you are content and happy with what you are doing, the people around you will see that as well and they will appreciate that.
Q: When can everyone see you perform?
A: You can find me performing every Wednesday at Touch Bar as well as Friday, Saturday, and Sunday. You can also find me on Instagram @rxsita.