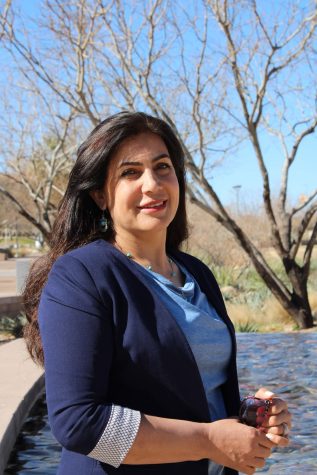 Neema Soratgar is an Afghan refugee who has been hired by UTEP as a visiting global scholar, housed in the Women's and Gender Studies Department as a research assistant to Director Gina Nuñez-Mchiri, Ph.D.
In 1996, the capital of Afghanistan, Kabul underwent a radical change that has affected the lives of its citizens to an extreme degree. The Taliban regime took over, and the country's people – especially women – encountered days of horror. From 1996 to 2001, the Taliban ideology of the extremist Sharia Law was imposed in what is today known as a war-torn country. This extremist view restricted women from education and work and confined them under the shadow of a man, a burqa, and their homes.
For Soratgar, this invasion meant rebellion. She dedicated years of her life to secretly instructing young women in English and sports at her house, despite the imminent risk of being discovered by the Taliban. One of her remarkable accomplishments and proof of womanhood spirit was teaching women how to walk without the burqa, during her after-hours fitness classes.
"On the first day of our exercise, when I asked them to run, they couldn't; I realized that they did not know how to run; they grew up with the tent (burqa) for five years, so we started learning to walk from zero," Soratgar said.
The day eventually came when Taliban gunmen forced their way into her house. Despite the alarming situation she was in, Soratgar confronted the men, questioning their so-called faith and ideology, resulting in her and her 8-year-old son being arrested. It was after intervention and protests from the community that they were set free. Soratgar responded by reopening her secret homeschool.
Due to her passion and contributions to sports and the well-being of young women, she opened the first fitness center in Kabul, focusing not only on the physical health of her people, but on their mental health. She was also vice-president of the Afghanistan National Basketball Federation. Because of her involvement with the community through sports, the Afghan Olympic Athletes selected her as the flag bearer for the opening ceremony in Greece 2004.
As part of her education trajectory, she was a professor at Kabul Education University, where she taught Methodology of Teaching. During her years of professorship, she worked alongside other women to publish a series of transcripts from their think-tank meetings.
"We held meetings with some broad-minded and active students to enlighten and promulgate mutual tolerance until we could launch a dialogue of tolerance in Kabul and other provinces," Soratgar said.
Soratgar met former first lady Laura Bush March 14 in Dallas to talk about women's ongoing situation in Afghanistan and her activism for women and children's education. This is not her first time meeting with the former First Lady. Sep. 24, 2002, Soratgar met former President George Bush, during a visit to the White House under the state department assistance program Afghan Women's Council. Fourteen women from different provinces of Afghanistan were elected to participate in this leadership and management program.
Later in 2007, she met Laura Bush, during a program that recruited Afghan professors, to visit the University of Nebraska at Omaha. This helped her have the initiative to contact her and speak on behalf of women and their demands in Afghanistan.
She published a book in June 2021 called "University and Inquiry" which exposes the educational situation of children in Afghanistan. With the book, she also seeks to enlighten society and raise minds against the Taliban ideology.
As Soratgar showed videos of her house vandalized by the Taliban gunmen, she explained that life under the Taliban regimen was unbearable, especially for her children.
"I have some friends out of Afghanistan, and one of them called me and asked about the situation in Afghanistan, and she campaigned for me in the United States, in Washington. Then, I fortunately received a job offer from UTEP," she said.
UTEP has given Soratgar the opportunity to do research with the Department of Women's and Gender Studies and decide whether she wants to pursue a Ph.D. or if she wants to become a lecturer for the department. Not only has Soratgar found comfort under the wings of the university, but of the community and the city of El Paso as well, she said.
"The kindness of the people and the beautiful nature here remind me of my homeland and destroy my sense of alienation," Soratgar wrote in the speech presented to Laura Bush.
Soratgar believes that her input in global feminism, will be a great opportunity to share with UTEP students a multicultural scope and help them understand the worldwide situation of women and children.
Soratgar said she does her work to give moral support to other women, to show them not to be scared and to stand up.
"Instead of sitting and watching, it is better to do something," Soratgar said.
Maria L. Guerrero Duran is the Web and Copy Editor and may be reached at [email protected]; @bymariaguerrero on Instagram; @malysaguerrero on Twitter.