Changing the world one color at a time
Ivanee Muñoz owner of  A'Dior Nail company; has won the Best of El Paso award back-to-back for 2020 and 2021. Muñoz takes pride in the work she does on her clients and the services she provides as a friend.
Muñoz has been doing nails since she was 25 years old for more than six years, three years at her salon and more than three years at her old apartment. She realized she wanted to pursue this as a career when she was 18 and her cosmetology class started to learn about nails, she began to enjoy the art, but it ended shortly after. She was later contacted by her school to finish her education and gave her the chance to solely pursue nails; she was the first in her class to do just that.
"I didn't think that working outside of the house was going to blow up as much as it did," Muñoz said. "She ended up telling me that I was going to be the first of their class, if I was interested, for a manicurist program."
Doing nails was not always something Muñoz wanted to do; she wanted to be an actress on Broadway. Despite not pursuing acting, she explains how changing her salon from time to time can be a lot like a sequel to a movie. When she was younger, Muñoz would watch her mom do her nails at the kitchen table, and she felt a certain calmness when she would watch her.
"I realized this is where my passion started when I was young, but it just did not follow through until I did it," Muñoz said. "I cannot tell you exactly what made me do it, but when I did it, I just knew that was the thing I wanted to do forever."
When Muñoz is doing nails, she is motivated by seeing her clients' reactions to getting their nails freshly done. Muñoz said she loves her clients, which differentiates her salon from others, she offers her friendship besides her nail salon services. She builds a relationship with all her clients to where they feel comfortable enough to share a piece of their life with her.
"It's the best part of motivating every set I do. When they come in, they look a certain way, but when they leave, they do not look like when they came in, and that just pushes me," Muñoz said. "It's a breath of fresh air for not only me, but for them because I built that rapport and relationship where they can be themselves in my chair, not only get their nails done, but they can say things that they haven't said in like forever."
For inspiration, Muñoz turns to her siblings, who she calls "the party of five." She explains they have been through so much in their life, but they have found a way to get through it and come out on top. Muñoz knows that whenever she is feeling down, she can call one of them no matter what.
"My family members and I have found a way to overcome that pain and that life that we have been dealt, and use it for good, use it to help people and use it to feel right," Muñoz said. "The fact that my siblings can just continue to strive for what they believe in, and what they love, and what they do, pushes me all the time. They have just inspired me to continue to be better and just give mom and dad what they would have wanted, to live their legacy and be strong for them, that's what my parents would want it."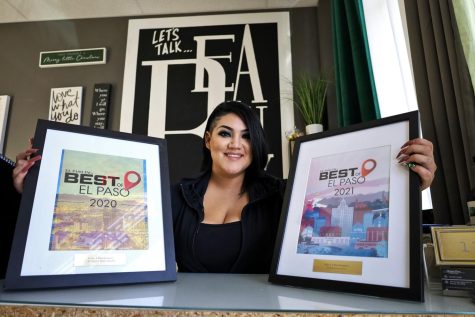 Muñoz has always been a one-woman show; she runs her business and is a single mom. She explains that her biggest achievement is finding a balance between the two. During her career, she has had people come learn with her and later go off and open their own business, making her happy.
"I have had people come and go, that's for sure, but one thing I can say is that when they do go, they go out successful and they make something of themselves," Muñoz said. "That's something that I'm proud of, but it's always been me, hard work and all."
The name A'Dior Nail Company was inspired by her two kids; she took the initial of her daughter's first name and her middle name for A'Dior and her son's first and middle initials for Nail Company.
Muñoz advises aspiring nail technicians, to respect themselves and their artwork.
"Trust your passion because without that, there is nothing, there's no money, there is no love, there are no clients, and without those three important things, what do you have?"
Katrina Villarreal is a staff reporter and may be reached at [email protected].