Krishna Jayasankar goes the distance
Krishna Jayasankar Menon, UTEP track and field thrower, is the first female thrower from India to receive a division one scholarship, marking only the beginning of her athletic career at UTEP. 
Jayasankar, a freshman majoring in kinesiology, was chosen by UTEP to represent the Miners for her outstanding numbers and ranking in Asia and the world. 
"I got a scholarship opportunity and it's always been my dream to come to the United States," Jayasankar said. "UTEP was the best times and institutions I said, 'you know what let me grab the opportunity." 
Jayasankar originally wanted to pursue tennis. However, after being approached in fifth grade by a teacher who said her height was good for shot put, she got into track and has been doing it for 10 years. That same teacher became her coach in high school. 
"I always believed that my parents didn't get their due. So therefore, I said, 'let me try another sport,'" Jayasankar said. "Things eventually transpired, and I started winning my school nationals. I threw over the meter (at the meet) but there was another girl who threw over me; her record was the new meet record and mine was better than the original meet record." 
Jayasankar first realized she wanted to pursue track after the recognition and opportunities that come with competing. There was a moment in high school, when the same teacher who recruited her for track, did not sign up Jayasankar to compete due to already having someone else entered in the under 18 category. Instead of conforming with the idea of not competing, Jayasankar took it upon herself to prove she was deserving of an entry. Jayasankar went on to compete in the under 20 category at the CBC nationals as the youngest in the category where she came in fourth place. The following year she was able to compete in her own category, under 18, taking home gold. 
"All of the girls were older, and I was the youngest in there I came fourth," Jayasankar said. "So that's when I said, you know what I'm going to take this seriously because I have the talent and the potentiality because I was very young, and I was able to compete with all the competitors who are older than me." 
Jayasankar's inspiration and motivation comes from the sacrifices she has made and from those who surround her.  
"I think it's my family the drive to not to give up and it's the sacrifices that keep reminding me that 'you're here for a purpose and you have to push yourself,'" Jayasankar said.  
Jayasankar took a chance on herself by deciding to take a year off from school to train in Jamaica for seven months. This decision and training ultimately led her to a sports scholarship at UTEP.  
For Jayasankar, track is a mental game, and just like any other sport it is something that takes mental toughness. 
"I don't have a particular person who inspires me, I get inspired by everybody like I see I get inspired by Tobi (Amusan)," Jayasankar said. "As you see, Tobi works really hard to be the best and to be what she is. There's mental toughness. You just have to have faith in yourself, believe in yourself and tell yourself that you can do it."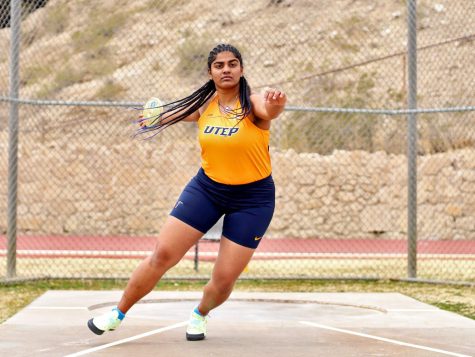 Jayasankar enjoys the competitiveness track brings to her life, as an individual sport that piques her interest. Particularly, the interest the sport brings her as she supports her teammates and watches other events. 
"I always thank my competitors because if they were not there, if they're not pushing me then I would not push myself," Jayasankar said. "I get to see a lot of things, I get to see people jump, I get to see people run, I get to see people throw. You don't get to see this in any other sport. You know there's no repetitiveness in a way." 
Jayasankar's journey at UTEP is only the beginning for her, as she hopes to represent India at the 2024 Olympics and medal at the national championships for the NCAA.  
"Olympics is always the aim," Jayasankar said. Jayasankar and UTEP track and field prepare to head to Tempe, Arizona for the Sun Angel Invite from Thursday, April 7 to Saturday, April 9. 
Katrina Villarreal is a staff reporter and may be reached at [email protected].