Scoring threat on the court
Junior guard Souley Boum has had an enormous impact on the court in his three years playing for UTEP. Boum has been a key player in many of the Miners' big victories this season.   
One of the many games in which he had an impact was against the third-ranked team in Conference-USA, Louisiana Tech University. Boum was able to change the game with a steal and layup that eventually led to the win. 
This season, Boum has been averaging 19 points per game, and four rebounds per game. Boum had struggled early in the year in shooting consistent 3-pointers and scoring in general asthere were games where Boum shot a low 28% from the 3-point line. But he is still able to make an impact on the glass despite the streaky shooting from beyond the arc. 
"To be honest from the beginning of the season, I was still scoring, people was staying all this stuff, I was still averaging what I was averaging last year," Boum said in a Feb.24 interview after practice. 
Boum's scoring abilities were able to help the Miners during their six-game win streak. Boum was averaging high scoring amounts and making plays that helped during late in game situations. His defense is nothing to scoff at as some of the stifling plays have helped as well. 
"It just gets me pumped to play, when you come in and get lost on defense, my old coach used to tell me… your offense will take care of itself," Boum said in a Feb. 24 post-practice interview.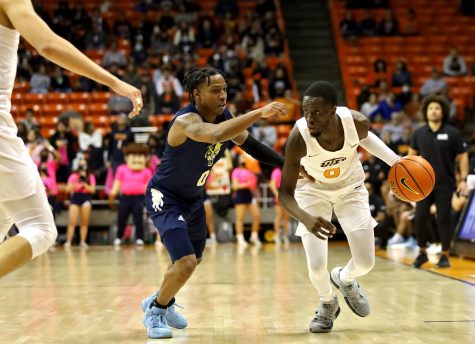 Originally from Oakland, California, Boum attended Oakland Tech High school and played all four years on the varsity squad. Then, Boum attended the University of San Francisco where he averaged 10.9 points per game and was selected to the freshman West Coast Conference All-American team. 
After spending his freshman season there, Boum transferred to UTEP, but had to sit out the 2018-2019 season. 
Boum's favorite basketball player is the late Kobe Bryant, former shooting guard of the Los Angeles Lakers. Boum also loves soul food and music, his favorite kind being soul music. 
Boum overall makes this basketball team better, whether it's by shooting the ball or knifing through the defense to score a lay-up. Boum is a threat to score from anywhere on the basketball court.  
Head Coach Joe Golding gave high praise when asked about Boum, claiming he's extremely proud of the work he has put in since December, how he's become a leader for the team on and off the court, and how he never steps down from a challenge.  
The UTEP men's basketball team can be seen back in action in their next game against Rice University at 7 p.m. Mar. 3 at Tudor fieldhouse.  
Daniel Alec Lopez is a reporter and can be reached at [email protected].