UTEP professor and author Alessandra Narváez Varela released her very first book this past year called "Thirty Talks Weird Love." Narváez Varela explains she created this novel inverse to open the eyes of many and begin conversations. 
Narváez Varela wrote her very first poem in high school called "Dearly Beloved," she explains that this poem sparked from a place of liking someone and them not liking you back and as she progressed, she found that poems do not have to be about love they can also include important messages. 
"It's very common for a lot of people, because we associate poetry with just the feelings right, and I'm going to let it out, and the emotions," Narváez Varela said. "Little by little, especially when I started the master's program, I started realizing the social justice component that poetry could have. That's what my work is about." 
Writing was not always the goal for Narváez Varela before she started writing she planned on going to medical school, so she decided to major in biology and minor in chemistry. She would write stories and poems sporadically, but she never saw herself as a doctor and when she did not get accepted into medical school right away, she enrolled in creative writing classes. 
"This whole thing happened when I started my masters, it just became a very concerted effort but thankfully evolved from the 'Dearly Beloved,' to poems that want to start that conversation with readers about issues of social justice that relate to me, my identity or my community," Narváez Varela said. 
"Thirty Talks Weird Love" is a novel inverse, meaning that it is a story told through poems. 
Narváez Varela explained her book is semiautobiographical, where she would draw from her own experiences. As far for her motivation to write her book Narváez Varela explains she wanted to discuss the ongoing femicides that are occurring in Ciudad Juárez along with opening the discussion regarding mental health and mental illness. She considers her writing to be poetry of service. 
"I wanted to present home because that's what it is for a lot of us, I don't live there currently, but it was my home for 20 years. It's still home for almost 1,000,000 people," Narváez Varela said. "So in in writing about home, I want other readers whose own cities or towns or places of origin are being minimalized to question that and say how do you want to present the story of your home. I'm looking to serve in a small but in a very intentional way through writing." 
The topic of mental health is one of the big topics in Narváez Varela's book. She explained how she went through a depressive episode that changed her life, at the age of 17 she attempted suicide. Narváez Varela explained that it was a blip because she was always focused on success and studying.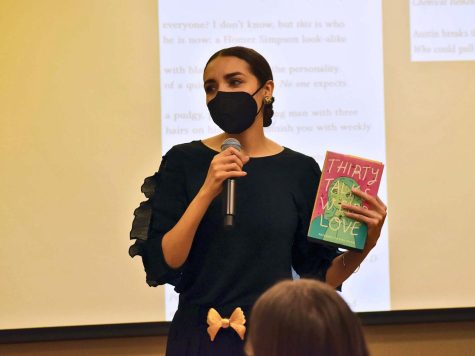 "My hypothesis is if I had talked to someone about it faster, who knows what would have happened," Narváez Varela said. "I do not regret what led me here, but at the same time, I want others to catch themselves at that point, especially young adult readers, but also adults. I know it's a little bit cliche, but it's never late to question how you are feeling and are you speaking out, are you talking to anyone. Speaking of adult readers, whoever picks this up, a dream would be for them to look at their younger selves with kindness and with love and say, 'You are beautiful.'" 
Narváez Varela's inspiration to write include poets Sandra Cisneros, Patricia Smith, Evie Shockley, Toni Morrison, Juan Felipe Herrera and Martín Espada. In terms of young adult Margarita Engle, Guadalupe Garcia McCall and Anna-Marie Mclemore. She also draws her inspiration from her parents, she explains her mother's beautiful letters and her father's amazing vocabulary. 
"Juan Felipe Herrera because he is the first Latinx U.S. poet laureate, what he represents to writers like me is beyond words," Narváez Varela said. "They were beautiful letters and I really appreciated how I was impacted by just works. So that got me into writing, and I was just very curious about the power that a written note could have. He (my dad) contributed to the curiosity that I have about language because he has an amazing vocabulary." 
Advice Narváez Varela would give to an aspiring writer is to read as many books as possible, find another writer of poet and make a connection and understand it goes back to revision.  
"Train yourself to take notes and understand what a writer is trying to do, that is so valuable, you don't need an instructor there," Narváez Varela said. "Help your fellow writers, support their work, celebrate their victories because I really do think that if in my community a fellow writer or poet publishes, that is a victory for all of us. When you get a book that you enjoy, right? The chances are that it didn't just like come out like this from the writer."  
Narváez Varela finished by saying, "Because your life is different, celebrate it especially for writers who are not as visible in publishing Black, Latinx, Native American, LGBTQIA2S+, marginalized writers if you will, it is very important to take control and tell our stories because they matter, but we have to sit down and write them." 
Katrina Villarreal is a staff reporter and may be reached at [email protected].