Brainstormed over a couple of beers in the midst of the pandemic, Loteria del Chuco came to be. The El Paso inspired Loteria game was created eight months ago by Daniel Corral and his friends, and it has become a local sensation ever since.  
"Loteria Del Chuco was created after three friends were playing the traditional Mexican bingo game, but they wanted it to be specific to their hometown of El Paso," Corral said. "Over drinks on video chat, they started brainstorming different ideas using key landmarks, mascots and El Paso's most beloved athletes, singers, and historical figures." 
Corral, graduated from the University of South Florida, as a graphic designer, and designed the new El Paso version of the classic Loteria Mexican game. The game is filled with familiar faces, structures, and places unique to El Paso. Some of the playing cards include Khalid, Beto O'Rourke, Paydirt Pete, The Coffee Box, and many more. 
 "Many of the original Loteria cards were kept the same, but the image was changed to suit the Sun City. A couple weeks later the concept came to fruition and now Loteria Del Chuco is ready for everyone to enjoy with their familia," said Corral. 
Located above the Old Sheep Dog Brewery on 3900 Rosa Ave., you'll find the unique "illpaso" store, which sells the Loteria game. Illpaso is a local clothing brand that sells El Paso inspired apparel with a '90s twist. 
The business shares the space with two other businesses, including a barber and artist, Alex Arriaga. Arriaga creates beautiful paintings, glass art, murals, and so much more. The game is also sold at the east side location at 3351 George Dieter suite C1. Hours of operation are Wednesday through Saturday from 1 p.m. to 9 p.m. and on Sunday from 12 p.m. to 6 p.m. 
The store not only sells their version of the Loteria game but also in coffee mugs, t-shirts, stickers, vintage clothing/objects and more. There are two versions of the Loteria game and both of them are completely sold out. El Pasoans are going crazy for the new game. Prices range between $10 to $30, depending on the item. 
"We recreated the game with new designs, version two is already sold out. I am surprised at how popular the game is and how this idea my friends and I came up with became an actual business," said Corral. "I want to give back to my hometown and show the pride that I have for my city by showing what makes El Paso great through this game." 
Corral hopes to make the Rosa Avenue location their main location and wishes to expand to more stores across the city.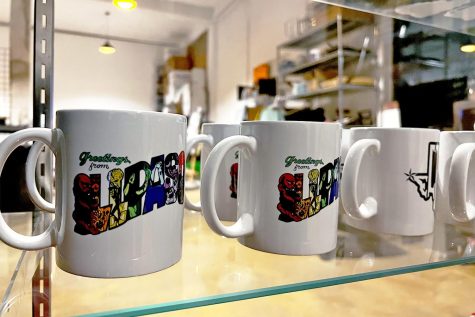 To buy the El Paso inspired Loteria del Chuco game or other merchandise visit, https://www.loteriadelchuco.com/ and to learn more follow Loteria del Chuco on Instagram @loteriaeptx.  
Alyson Rodriguez is a contributor and may be reached at [email protected]; @alyson_rod1127 on Twitter.