UTEP celebrates National Hijab Day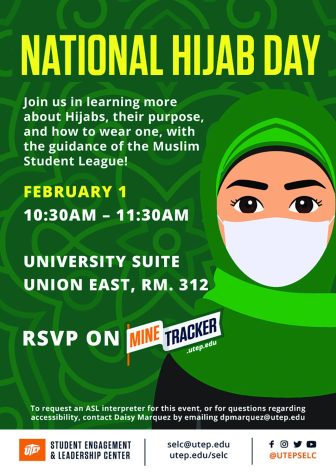 National Hijab Day is Tuesday, Feb. 1, and the Student Engagement and Leadership Center (SELC) has teamed up with the Muslim Student League to celebrate UTEP's first Hijab Day and educate students on campus.  
The Muslim Student League (MSL) is an organization at the University of Texas at El Paso that creates a safe space for students to gather to practice Islam. They also wish to educate about Islam and diminish mainstream stereotypes people see in the media, according to Hibah Hamdan, president of the MSL. 
"We are a welcoming space for anyone that wants to learn more about Islam," stated Hamdan.  
The definition of hijab is a barrier or a cover, Hamdan said. The hijab symbolizes faith in God and a reminder to heed his command. Women use this, as well, to maintain their modesty, just as men maintain modesty with their beards and respecting women by lowering their eyes.  
"In a society in which women are often over-sexualized and encouraged to wear revealing clothing, it is an empowering stand and feeling to control who gets to see you and protecting yourself from that over-sexualization that is directed towards women," Hamdan said.  
He also stresses that wearing the hijab is, most importantly, a self-made decision and that forcing a woman to wear one goes against Islam.  
National Hijab Day was born in 2013 when Nazma Khan, a Muslim woman, decided to use this as an opportunity to educate non-Hijabi Muslim and non-Muslim women by encouraging them to wear hijabs for a day. In doing so, they hope to bridge the gap between Muslims and non-Muslims and break stereotypes associated with the hijab. 
In lieu of this, in 2021, Khan founded International Muslim History Month for the month of May as a way to promote religious acceptance and to celebrate historic Muslims.  
From 10:30 to 11:30 a.m. Feb. 1, UTEP will celebrate this day by educating students on their purpose and showing students how to wear them with the help and support of the MSL.  
"We have some hijabs here that we will be using, and people can try them on themselves," said Daisy Marquez, leadership, inclusion and advocacy coordinator for the SELC. Students are encouraged to join in this educational event at the University Suite of Union East in Room 312.  
"This is a learning opportunity for individuals wanting to get introduced to something that is completely new to them," said Marquez. 
From 2 to 3:30 p.m. Tuesday, Feb. 8, the MSL will also table outside of Centennial Plaza to continue more education for the hijab. For any questions, concerns, or more resources, Hamdan recommends reaching out to the MSL, worldhijabday.com and www.whyislam.org/brochures/hijab.  
Kristen Scheaffer is a staff reporter and can be reached at [email protected]