Erica Murrill: a life full of coffee and art
A cozy and creative atmosphere welcomes customers, as soon as they walk through the doors of Café Arte Mi Admore,  where everyone knows and talks with one another and share their stories. Erica Murrill is the proud owner of the unique and colorful coffee shop, located in San Elizario, Texas, where she sells coffee, lemonade, tea, and art. 
Murrill was born in El Paso and grew up in Cuidad Juárez, she began painting when she was 5 years old and has been painting professionally for almost 18 years. Murrill found her love for painting when she was digging through her father's things one day and found a small box of old painting tubes.  
"I was there, and I said, 'Hmm one day I am going to start painting,'" Murrill said. "27 years later is when I started taking classes on how to paint." 
Murrill began her artistic journey in a studio she had Downtown at the El Paso Art Association; she was in the studio Downtown for 15 years. Due to not having very much traffic passing through, Murrill decided to take her endeavors to San Elizario, where she opened her first shop right across the street from where her current shop is located.  
"One day me and my husband were walking around this area, and the only one available was the one across the street," Murrill said. "But it was just teeny tiny, it has a little sink, so I said 'mmm I could open a coffee shop.'" 
Murrill always had the idea to combine coffee and art and has been in the business for five years; her original idea was to paint in front of guests, while they enjoyed a nice cup of coffee. 
"I don't know, when I was thinking about making coffee while painting. I always thought of having that combination of coffee and art." Murril said. "The coffee is there for people to sit down, relax and enjoy or talk about the art displays and I thought it was a great combination." 
When The Prospector inquired about what inspires her, Murrill explained that that has always been a difficult question to answer. The pandemic was very hard for Murrill, since for about a month and a half she did not have the inspiration to paint or could not think of things to paint about. One day she decided to paint one of her favorites, desert flowers.  
"I guess you could say naturalism inspires me, the beauty of people as well and my memories," Murrill said. "I believe the more you paint, the more you become inspired, but when there isn't a lot of time, it becomes difficult." 
When it comes to art style, Murrill likes to focus on whatever attracts her attention, such as self-portraits. If Murrill is given a photo of scenery she does not like recreating the scenery, but rather focuses on one small thing within that photograph, although she rarely paints small.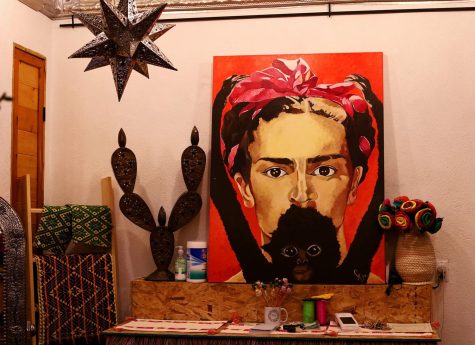 "I thought that I could do exactly what Frida Kahlo did, where she would paint herself in different situations," Murrill said. "One of my teachers called my art expressionist, like express what you feel." 
Murrill has always been a one– woman show with a little help from her husband, who would help her out on Saturdays and Sundays. Later it was just Murrill because they had just moved into a new house, but anytime she has a big event, he is always there to help. 
"I have never hired anyone, I am too picky," Murrill said. "Reason being because I treat this place like it's my home, I don't want people to feel like it is a business I want them to feel like they are right at home." 
In both drinks and art, Murrill is motivated by the smiles she sees on her customers' faces when they watch her create their coffee or when they look at her art. 
"The different things that we can make in both coffee and art, being unique and different has been what motivates me," Murrill said. 
The name of Murrill's coffee shop was inspired by someone from Carlsbad trying to say "mi amor."  
"Anytime I would go to his house, he wanted to say 'ya llegue mi amor' so he would say 'I made it mi admore,', that's the reason why I named my shop that," Murrill said. 
Murrill also has a Mexican boutique right next to her coffee shop that she opened with her daughter called "Otomi." 
Katrina Villarreal is a staff reporter and may be reached at k[email protected].