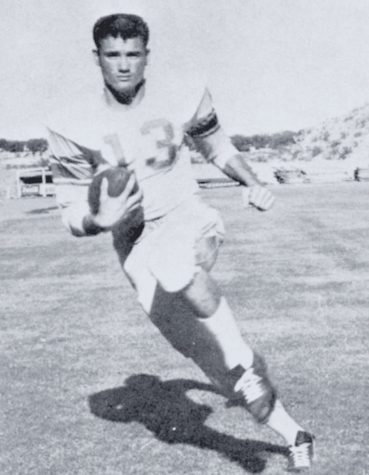 Legendary New York Jets wide receiver Don Maynard passed away Jan. 10 at the age of 86, only 15 days shy of his 87th birthday.
Not only was Maynard an NFL Hall of Famer, but he was also a part of the Texas Western College Football program, now known as UTEP. He played at Texas Western for three years before he was drafted in 1957 by the New York Giants.  
Maynard was the 109th pick in the ninth round of the NFL draft even though he only caught 28 passes from 1955-57 during his time at Texas Western. However, he was able to turn those receptions into scores and averaged 27.6 yards per catch.  
Maynard was only showing a little bit of his talent at Texas Western; only known as a small halfback and safety, he eventually became an even bigger standout when arriving at the Giants training camp in 1958. It could have been that he showed up in a cowboy hat and boots or in full western attire, but Maynard would soon stand out in the NFL, AFL (American Football League), and the Canadian football league. 
After one season with the Giants, Maynard was cut and was then playing for the Canadian Football League. Soon was picked up by the New York Titans (renamed the Jets in 1963) to play in their first season as part of the AFL. 
Soon Maynard was a star wide receiver in the AFL, where he was elected to the All-Star team four times. It was 1965 when Joe Namath became the star quarterback and joined Maynard in becoming the star duo of the team. 
Maynard and Namath became unstoppable taking the Jets to the AFL championship against the Raiders which they won, thanks to the strength of Namath and the speed of Maynard. With a hamstring injury that occurred against the Raiders, Maynard was used as a decoy and still helped the team win Superbowl III. Unfavored to win the Super Bowl against the Baltimore Colts, the Jets overcame the odds and pulled off an upset win in 1969. 
Maynard played for 15 seasons, having spent 13 with the New York Jets, and retired in 1973. When he retired, he became the NFL's all-time leading receiver with 633 catches, played in four Pro Bowls and was elected to the Pro Football Hall of Fame in 1987. 
Maynard died in Ruidoso, New Mexico in an assisted living facility, where his son Scot stated his father's death was "an accumulation of health problems including dementia." His death not only affected those in the NFL, but here locally as he will be remembered as a legend by UTEP alumni and others across the borderland. Maynard is survived by his wife, Anna Maynard; his two children, Scot and Terry, and five grandchildren. 
 Itzel Giron is a staff reporter and may be reached at [email protected]; @by.itzel.giron on Instagram; @itzel_anahi_16 on Twitter.