Echoing screams, long lines and bright lights filled UTEP's Don Haskins Center, Wednesday, Nov. 10, as crowds made their way inside to enjoy the highly anticipated Ricky Martin and Enrique Iglesias' first joint tour .
After a year of waiting, since the tour was postponed because of the COVID-19 pandemic, fans were excited and full of energy to sing and dance along to the most popular and electric songs of both artists. 
Enrique Iglesias, an internationally successful bilingual artist, kicked off the concert and rose from below the stage, causing the energy among fans to intensify. 
Iglesias was able to get the crowd on their feet from the moment he started singing. Opening with his 2014 hit "I'm a Freak," the crowd could not control their excitement and sang along to every word.  
From the high energy of "Chasing the Sun" off his recent release "Final Vol. 1," to a heartfelt ballad on "Hero," Iglesias was able to entertain the audience for a little over an hour and a half.  
Never missing a beat and having everyone join in, Iglesias certainly brought back concerts to the Don Haskins with a bang.  
Being the 20th performance of 26 tour dates, both Enrique Iglesias and Ricky Martin show no signs of slowing down. Iglesias played some his biggest hits across his career, including "I Like How It Feels." "Tonight" and "Duele El Corazon," even putting on an encore performance of his most memorable songs.  
Iglesias shared a smile throughout his performance as he ran and danced across the stage. He even stepped down to interact with fans as he asked them to sing along with him.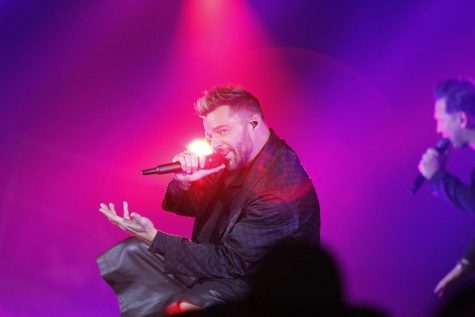 As Iglesias began to sing his last encore song, 'I Like It,' confetti and balloons rained down onto the crowd, setting the bar high for Martin's upcoming performance. The crowd took a quick intermission from Iglesias' electric show, as staff quickly set up the stage for Martin's performance. In the blink of an eye, flashes of gold and sequined backup dancers made their way to the stage. With his hit song "Livin' La Vida Loca," Martin started his set with high an energy to match that of Iglesias. 
Martin performed for over an hour, and fans enjoyed the bright colorful lights and dance performances displayed across several big screens. 
The crowd continued to sing along as Martin performed both in English and Spanish, and fans moved their phones flashlights to the rhythm of "Vuelve." Martin's show focused on celebrating the Latin culture as he performed with his background dancers with incredible lighting visuals.  
Martin changed outfits several times, while fans enjoyed singing his hit songs "La Mordidita," "María" and "She Bangs." 
Fans also enjoyed Martin singing two duets with Christina Aguilera in a pre-recorded clip for "Nobody Wants to be Lonely" and with Maluma in "Vente Pa' Ca." 
Although Iglesias and Martin did not perform together, fans still enjoyed an extraordinary Latin performance. 
Itzel Giron is a Staff Reporter and may be reached at [email protected]; @by.itzel.giron on Instagram and @itzel_anahi_16 on Twitter. Victoria Rivas is the Arts and Culture Editor and may be reached at [email protected]; @VicRivas_18 on Twitter.